Mitigating climate impacts, building resilience: East Asia Red Cross youth summer camp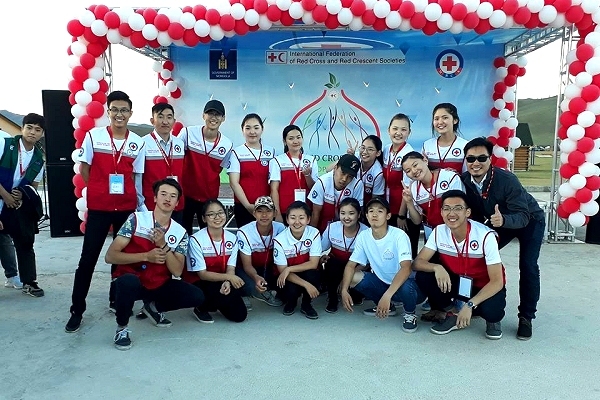 8 August 2017
The 2017 East Asia Red Cross youth summer camp – attended by around 100 young people from the National Societies of China, Japan, the Republic of Korea and Mongolia – ended near the Mongolian capital, Ulan Bator, on 28 July.
Its theme this year – for the first time – was the mitigation of climate impacts and resilience building.
The camp was jointly facilitated by the IFRC's East Asia Country Cluster Support Team (CCST) in Beijing, the Asia-Pacific Disaster Resilience Centre, hosted by the Korean Red Cross, and the youth wing of the Mongolian Red Cross Society (MRCS). 
'Either we address rising risks
or we fail to address our humanitarian mandate'
The Climate Centre, through Ana Mariquina of the Philippine Red Cross (PRC), provided technical support by facilitating a 'Y-Adapt' component in the programme.
Y-Adapt is a games-based curriculum to engage teenagers to develop their own climate adaptation plans, which could include advocacy in their local communities.
It's the fruit of a collaboration between the PRC and the Climate Centre, Boston-based Emerson College's Engagement Lab, PLAN International, and PLAN Philippines.
The main objectives of this year's youth camp were to raise awareness on emergency preparedness, provide knowledge on climate adaptation, and strengthen peer-to-peer learning and links among East Asian National Society youngsters.
Thirty MRCS staff and volunteers took part in the camp at a specially developed youth facility in Tuv province 50 kilometres from Ulan Bator.
Family members
"As the global climate is changing, the Red Cross Red Crescent Movement needs to change as well," said CCST chief Gwendolyn Pang in a message.
"Inaction is not an option: either we address the rising risks or we fail to address our own humanitarian mandate.
"Climate change is here and it will continue. It is everybody's responsibility to be prepared."
Young people in particular, she added, were able to tackle climate risks with progressive ideas and by educating family members.
Climate and resilience together provided the theme for this year's East Asia Red Cross summer camp for young people from the National Societies of China, Japan, the Republic of Korea and Mongolia, which ended late last month in Mongolia. (Photo: IFRC)