ICRC: No major progress on armed conflict and climate risk underlying 'the four famines'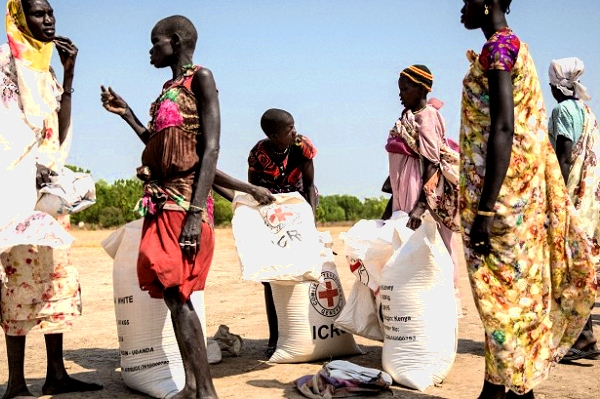 2 August 2017
ICRC Director of Operations Dominik Stillhart last month told US senators there has been "no major progress on the twin causes" of the world's worst humanitarian crises that have become known as the four famines: Yemen, Somalia, South Sudan and Northern Nigeria.
In testimony to the Senate Foreign Relations Committee, Stillhart said: "People in each country remain the victims of an extreme 'double vulnerability' to the simultaneous effects of armed conflict and climate.
"Patterns of conflict and the conduct of hostilities continue to be the single biggest factor shaping people's suffering and limiting…humanitarian response," leading to displacement, destruction, scorched-earth tactics and pillage – all of which destroyed assets and livelihoods and cut off access to health care and education.
But he added that an "extreme and volatile climate" was also "putting great pressures on people [and] is responsible for livelihood collapse and asset depletion."
Drought destroyed crops or stopped them ever being sown while livestock had died in huge numbers.
         'Early action across all four countries means a major
          food emergency like the one in Somalia
         of 2011 has been avoided'
Focusing on drought in Somalia, Stillhart quoted directly from a specially prepared Climate Centre brief which expressed strong concern about communities in conflict areas where climate shocks and changing rainfall and temperature patterns are worsening conditions still further.
"In some parts [of Somalia] rainfall from September to December 2016 was extremely scarce – the kind of drought expected once in a hundred years," the brief said.
"Elsewhere, the rains were scarce but not extremely so, a drought expected every 15 years – not enough to cause extensive food insecurity on its own but tipping people into disaster when added to conflict."
The ICRC testimony – 'The Four Famines': Root Causes and a Multilateral Action Plan' – was presented on 18 July to the Subcommittee on Multilateral International Development, Multilateral Institutions, and International Economic, Energy, and Environmental Policy; it also includes detailed ICRC updates on each of the four crises.
'Protection surge'
Stillhart said his main message was one of thanks: US leadership had helped "turn the tide of famine" and US support remained critical to ICRC operations in each country.
"American values and American money are saving hundreds of thousands of human lives in Yemen, Somalia, South Sudan and Northern Nigeria," he told senators.
"Early action across all four countries in the last four months means that a major food emergency like the one in Somalia of 2011 has been avoided.
"Our operations on the ground – often in hard-to-reach areas – confirm the general view that terrible famines have been averted but food insecurity remains extremely high…
"The cholera epidemic in Yemen is a major reversal, affecting hundreds of thousands of people. Cholera's reappearance as endemic in Somali and South Sudan is also serious cause for concern."
The ICRC's operations chief said it was asking the US government for a "protection surge" to improve the behaviour of all the warring parties and enable a new drive for civilian access to livelihoods and services.
The ICRC was also calling for more investment in health and water services, support for rural livelihoods and urban markets, and flexible multi-year funding – together making up what Stillhart called "four survival imperatives".
Welcoming the ICRC testimony, Climate Centre Director Maarten van Aalst, said it represented "one of the clearest statements to date from within the Red Cross Red Crescent Movement about the complex interlinkage between climate and conflict."
He added: "In Somalia, the focus of one of our recent climate-attribution studies, we clearly saw how conflict and climate together create extreme impacts.
"In any of these four crises, even a small influence at the margin attributable to climate change or variability would be enough to push large numbers of people across the threshold of what's survivable."
Fighting in the South Sudanese town of Leer earlier this year forced thousands of people to flee their farms. This photo illustrated an article by Dominik Stillhart in April in which he argued that the world was then on the brink of a "humanitarian mega-crisis unprecedented in recent history". (Library photo: Alyona Synenko/ICRC)