Op-ed: 'The problem isn't hunger: food crisis in East Africa'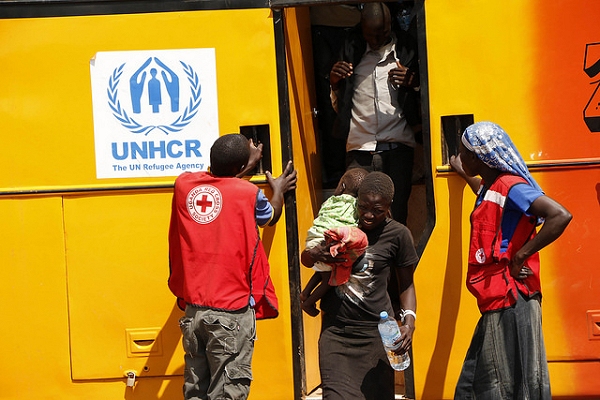 14 July 2017
(This op-ed appeared first on Wednesday on the website of the Australian Institute of International Affairs. Dr Fatoumata Nafo-Traore is the IFRC's Regional Director for Africa.)
In what the United Nations has called the worst humanitarian crisis since the World War II, more than 16 million people in East Africa face the prospect of starvation as a result of conflict, political apathy and drought. 
These crises are doomed to be repeated unless the underlying causes are addressed. Famine and starvation are threatening the lives of tens of millions of people in Africa today.
In Ethiopia alone, more than 7 million people need emergency food aid. What is troubling is the fact that food aid will run out soon in the country. This is extremely unsettling and begs the question: Will this cycle of hunger ever end?
As we respond to the current crisis, it is imperative that we fast-track efforts aimed at investing in longer-term solutions, if we are to break the endless cycle of food insecurity.
In 1974 a global conference on food security resolved that "within a decade no child would go hungry". Ironically, exactly a decade later, almost 1 million Ethiopians died in one of the worst famines in recent history.
'With new technologies, climate prediction and historical data
we can anticipate the onset of drought'
It was not the last one. Famines have been recurring, and they will return, unless public authorities, the donor community, United Nations agencies, regional bodies and national institutions genuinely refocus their efforts on dealing with the underlying causes.
Some of the causes are man-made, especially conflicts. Since mid-December 2013, an armed conflict in South Sudan has created a massive humanitarian crisis, with an alarming exodus of people to neighbouring countries, generating one of Africa's largest refugee crises.
It has also fed a severe food crisis, resulting in the UN and the government declaring famine in some parts of the country and warning of famine risk elsewhere.
The alarming food security situation in South Sudan is a direct result of the conflict. Unless lasting solutions to this and other conflicts are found, food insecurity will always be with us.
Inexcusable
In the countries affected by conflict, strenuous efforts need to be made to find resolutions. Warring parties must refrain from targeting civilians – and civilian infrastructure and services – so that agricultural activities can continue; they must respect the laws of war.
Where there are no active conflicts, they need to be prevented. This should be done, partly by addressing the root causes such as inequality, unemployment and economic decline among others. Social inclusion is key.
In addition to the above-mentioned man-made causes, we also need to address environmental causes such as desertification and drought. We need to graduate from debates in conference halls to action in communities.
It is inexcusable, in the 21st century, to say that Africa is surprised by drought, one of the leading causes of food insecurity.
With new technologies, climate prediction and historical data we can anticipate the onset of drought. As the former head of the UN Convention to Combat Desertification, Luc Gnacadja, once said, "droughts do not happen overnight".
Extremism?
We know that drought has a cycle of five to six years. These crises are cyclical. We cannot keep saying "never again" unless we are prepared to change the way we respond.
We need to invest in long-term community-level capacities and systems so that local communities are prepared for any future shocks.
Local and national organisations such as national Red Cross and Red Crescent societies are present in communities, speak their language and understand their cultural norms.
The international community needs to do a better job of strengthening this capacity and empowering locally-led efforts. Local actors are uniquely placed not only to respond to current crises, but also to reduce the risk of future catastrophes.
In today's world, we cannot operate in isolation. We are in this together. What happens in one part of the world can have direct consequences in another.
And such crises can lead to increased population movements, more insecurity and extremism in a world that is already facing enormous challenges and unpredictability.
Refugees from South Sudan arriving at the Bidibidi reception centre in northern Uganda last year. The alarming food security situation in South Sudan is a direct result of the conflict there, argues Dr Fatoumata Nafo-Traore, the IFRC's Regional Director for Africa. Warring parties must refrain from targeting civilians, she says, and respect the laws of war. (Library photo: Denis Onyodi/Climate Centre)