Second cash-relief operation under FbF of Bangladesh monsoon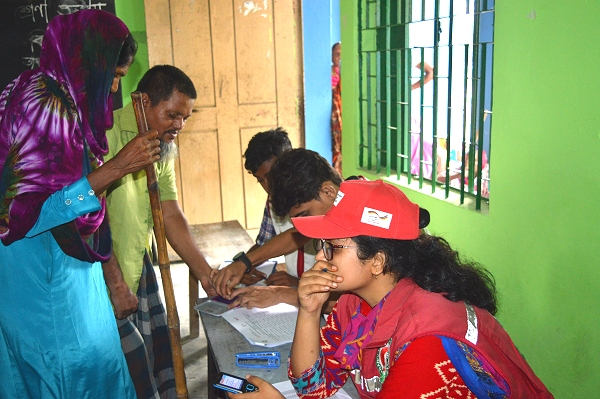 11 July 2017
The Chinese Red Cross has donated US$100,000 to the Bangladesh Red Crescent Society (BDRCS) to assist with its ongoing monsoon flood-relief operation in wetland haor areas of the country's north-east region.
"Vast areas of Bangladesh have been suffering a series of floods since March [leading] to crop destruction and food shortages," a BDRCS news report announcing the donation said last week.
Beijing's charge d' affaires in Dhaka, Chen Wei, presented the cheque to BDRCS Secretary General Mozharul Huq at the Chinese embassy.
The Chinese resources will be distributed to flood-affected families in north-east Kishoregonj and Netrokona districts.
Meanwhile a second series of humanitarian cash disbursements of 5,000 taka (54 euros) each to just over 1,000 households under German-supported forecast-based financing ended in north-west Bogra district today.
Forecasts last week had indicated established FbF danger-levels would be crossed at four project sites along the Jamuna river: Kazla, Kamalpur, and separate Bhanderbari wards.
All subsequently were, and local news reports yesterday said the floodwater may not yet have peaked in these locations.
The cash distributions in the Bhanderbari union were attended by Belal Hossain, BDRCS Director of Disaster Risk Management.
'Widespread damage'
The humanitarian cash disbursements in Bogra were the second such exercise in the current monsoon season in Bangladesh under FbF, which is supported by the German Federal Foreign Office and Red Cross with technical assistance from the Climate Centre.   
At the end of May, just before Cyclone Mora made landfall, the Red Crescent distributed 5,000-taka FbF grants to 2,300 families in Companiganj and Hatiya upazilas in the coastal district of Noakhali.
Torrential monsoon rain and lethal landslides later worsened the situation for coastal communities struggling to recover from Mora, the IFRC reported as it appealed for international assistance for Bangladesh.
The British and Swiss Red Cross have also now sent emergency funds to Bangladesh, the BDRCS said.
The Chinese Xinhua news agency quoted Bangladesh's Disaster Management and Relief Ministry Secretary, Shah Kamal, as saying some 900,000 people have now been affected by monsoon rain and floods across the country.
"Floods triggered by heavy seasonal rains and onrush of water from hills across the Indian border have also caused widespread damage to habitation, crops, roads and highways across vast areas in the north-east of the country," Xinhua added.
"In many places, the floods eroded large portions of villages and agricultural land, and washed away buildings."
Bangladesh Red Crescent volunteers conducting their second humanitarian cash disbursement of the current monsoon season under forecast-based financing. They distributed the equivalent of 54 euros to just over 1,000 beneficiary households in Bogra district after forecasts said established FbF danger levels would be crossed at monitoring stations on the Jamuna river. (Photo: Climate Centre)