New flood-resistant houses boost resilience in northern Senegal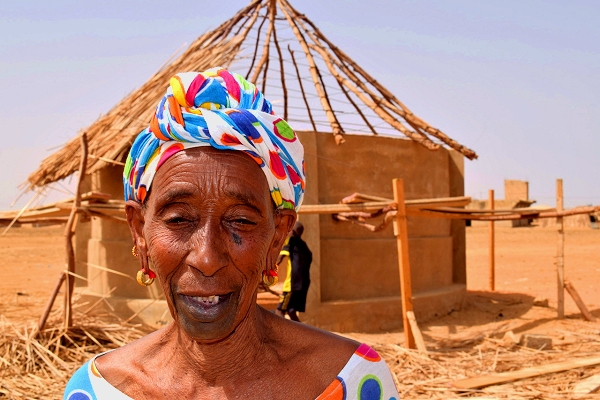 4 July 2017
(This story appeared first on Friday on the African regional area of the IFRC website.)
While most farmers in the Sahel region are impatiently waiting for the rainy season, Boly Sow is anxious. She lives in Medina Mountaga, in northern Senegal, in a makeshift home built with branches, straw and plastic. 
"Last year, heavy rains swept away my home. I slept in the open for days. And this year I know that my temporary shelter will not withstand bad weather," she explains.
Sow and her neighbours came here from Lougdemis, a village that was completely devastated by floods in 2009.
Resettled in Medina Mountaga, they started a new life with the support of the IFRC and the Senegalese Red Cross, which provided tents and relief items to the community. But after a few years, these temporary shelters failed the test of time.
Solid foundation
In Medina Mountaga, most inhabitants are agro-pastoralists and crop failure in recent years has left many of them in abject poverty. Desperate and without any assistance, they were forced to live in makeshift homes.
"We are doubly vulnerable. We experience either the destruction of our homes during heavy downpour, or food insecurity in the event of poor rainfall," says Sow.
But despite this sobering reality, there is a glimmer of hope. The Senegalese Red Cross – with support from Luxembourg Red Cross – has launched a new shelter project that aims to help communities in northern Senegal to build safe and flood-proof houses, comprising one room, one kitchen that is equipped with an improved wood stove, and latrines.
Medina Mountaga is among six villages selected for the first phase of the project, and Sow is one of the beneficiaries.
Her new house will be ready in a few days and she is eager to move in with her family. The style of the house, with its solid foundation, is a far cry from her current shelter.
"This new house is totally different. It is much nicer. It is also capable of withstanding any floods that may occur in the future," says an overjoyed Sow.
Fruit trees
In total, 350 homes will be built throughout the project – 200 of them during the first phase in Medina Mountaga, Lougdemis tableau, Bountou Bak, Guilado 2, Nadiel 2 and Fouyorol.
Abdourahmane Faye, field project officer at the Senegalese Red Cross, said: "People living in precarious houses, exposed to bad weather, are the main beneficiaries."
The Red Cross provides beneficiaries of the programme with construction materials, including sacks of cement, iron, planks, windows and doors.
Additionally, the Red Cross offers training and payment for bricklayers and carpenters. It also supports the building of the foundations of the houses.
It is the up to the families to make the bricks, provide the typha leaves for the roofs, and dig foundation trenches. 
Programmes funded by the Luxembourg Red Cross also include income-generating activities through support to market gardens, outreach activities on water and sanitation, protection of the environment, and the fight against climate change through, for example, a reforestation campaign and planting of fruit trees near schools and houses.
Red Cross beneficiary Boly Sow and behind her the new and much safer house she is shortly moving into. (Photo: IFRC)