Scientists find strong climate change links in Western Europe's record June heat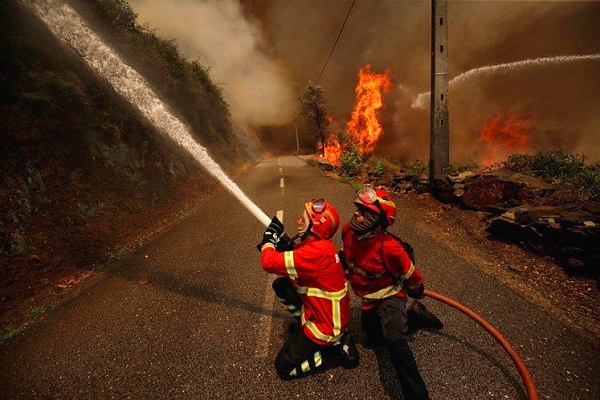 30 June 2017
(This story is a press release from US-based Climate Central, coordinators of the World Weather Attribution programme of which the Red Cross Red Crescent Climate Centre is a part. The latest report on the Red Cross response to fires in Spain and Portugal is from the IFRC's Nora Peter.)
Scientists have confirmed that human-caused climate change played an important role in the excessively-high temperatures that gripped much of Western Europe in June.
The month was marked by extremely-high temperatures and wildfires across Western Europe. In Portugal, a deadly forest fire killed at least 64 people and injured more than 200.
A major forest fire in Spain forced more than 1,500 people from their homes. In France, Switzerland and the Netherlands heatwave plans were triggered.
England observed its hottest June day since the legendary heatwave summer of 1976.
Climate change made the intensity and frequency of such extreme heat at least twice as likely in Belgium, at least four times as likely in France, Switzerland, the Netherlands, and central England, and at least ten times as likely in Portugal and Spain, according to a new analysis by scientists with World Weather Attribution (WWA) and scientific partners in England, France and Switzerland.
WWA is an international coalition of scientists focused on assessing possible climate change influences on extreme-weather events. The team analysed the record June warmth in seven Western European countries.
'Action plans'
Friederike Otto, senior researcher at Oxford University, said the results are consistent with a warming planet in which summers are getting hotter and heatwaves are becoming more frequent and intense, and can come earlier or later in the summer.
"Heat can be deadly, especially for the very young and the elderly," said Otto. "This extreme-event attribution analysis makes clear that European heatwaves have become more frequent, and in the south of Europe at least ten times more frequent.
"It is critical that cities work with scientists and public health experts to develop heat action plans. Climate change is impacting communities right now and these plans save lives."
Geert Jan van Oldenborgh, senior researcher at the Royal Netherlands Meteorological Institute, added: "We found clear and strong links between this month's record warmth and human-caused climate change.
"Local temperature records show a clear warming trend, even faster than in climate models that simulate the effects of burning fossil fuels but also solar variability and land-use changes."
Robert Vautard, a researcher at the Laboratory of Climate and Environmental Sciences, said: "Hot months are no longer rare in our current climate. Today we can expect the kind of extreme heat that we saw in June roughly every ten to 30 years, depending on the country.
"By the middle of the century, this kind of extreme heat will become the norm in Western Europe unless we take immediate steps to reduce greenhouse gas emissions."
The Pedrogao Grande forest fire in Portugal was the worst in recent decades; it may have started after a lightning strike and was fanned by dry, gusty winds amid an intense heatwave affecting western Europe that has now been linked to climate change. (Photo: Portuguese fire service via Twitter)