Forest fires in Portugal rage on as heatwave sweeps Europe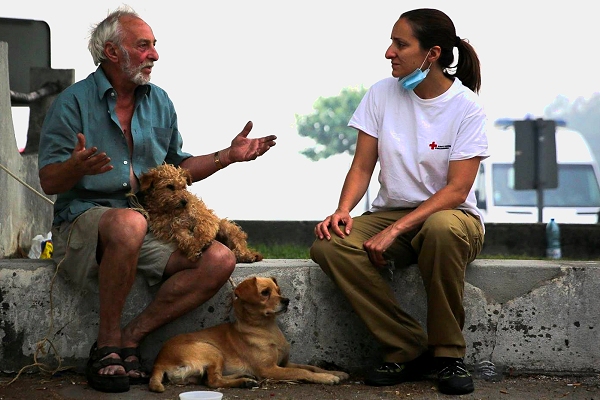 21 June 2017
(This story appeared first yesterday on the IFRC news site.)
More than 200 volunteers and staff from the Portuguese Red Cross are providing first aid, psychological support and emergency supplies to victims of devastating forest fires sweeping parts of the country.
The blazes, which broke out in central Portugal as temperatures soared this weekend, are believed to have claimed more than 60 lives as people tried to escape in cars from Figueiro dos Vinhos and Castanheira de Pera.
Dozens more have been injured and homes destroyed.
The Red Cross has 27 branches responding and has sent 40 ambulances to treat people and take them to hospital. 
It has also been handing out smoke masks, helping to reunite separated families and has launched an emergency appeal.
Swathes of north and western Europe are experiencing hot weather which is expected to continue in the coming days and weeks.  
'Extreme heat'
May saw monthly temperature records set in Spain, France, Belgium, Netherlands, Ireland, Norway, Germany and Austria.
Red Cross and Red Crescent societies are providing advice on how to keep cool and stay safe during the heatwave and emergency teams are ready to respond.
The IFRC disaster management coordinator in Europe, Ruben Romero, said:"Our colleagues across Europe are preparing for temperatures to rise further – it is important that people know how to stay safe in extreme heat. 
"Vulnerable people like the elderly, children, asylum seekers and refugees staying in camps are among the most at risk from the weather and our volunteers are in those communities providing information and support."
Temperatures reached 40°C in Portugal while the mercury rose above 30°C in the UK this week.
The British Red Cross, Netherlands Red Cross and Magen David Adom in Israel are among those to have prepared advice and information for the public on how to stay safe.
Hundreds of Portuguese Red Cross staff and volunteers are supporting people affected by deadly forest fires in the centre of the country, said to be the worst for decades. (Photo: Joana Bourgard/CVP-RR)