Fire and extreme heat strike again in Europe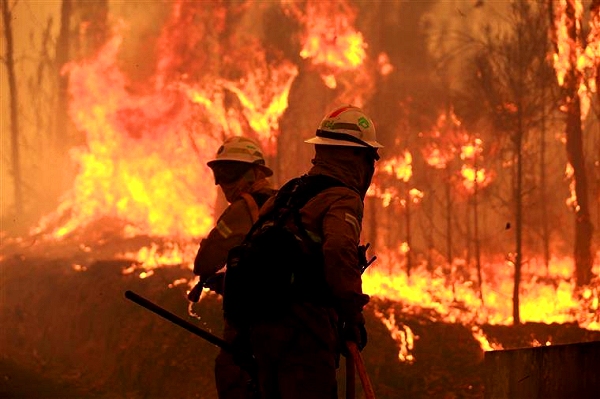 19 June 2017
The Portuguese Red Cross yesterday issued a national emergency appeal to support victims of the Pedrogao Grande forest fire, which is now said to have claimed at least 62 lives and injured more than 60 people.
Local news reports describe it as the worst fire in recent decades; the government has declared three days of mourning and sent two battalions of soldiers to assist some 2,000 firefighters.
"The dimension of this fire was such that we don't have memory of such a human tragedy," Reuters quoted Prime Minister Antonio Costa as saying during visit to the affected area – a mountainous region 200 km north-east of Lisbon.
Police said the fire probably broke out after a lightning strike on a tree and was fanned by dry, gusty winds amid the current intense heatwave affecting western Europe.
The Red Cross reports that 25 local units have been assisting with moving affected people and working with personnel from the National Institute of Emergency Medicine, as well as providing psychosocial support, water, food, bedding and blankets.
The National Society says its 'Advanced Medical Posts' include temporary in-patient capacity.
The emergency management service of the European Union's Earth Observation Platform, 'Copernicus', meanwhile, was Monday activated to map the disaster and support the relief effort in Portugal – one of three European nations, with Spain and France, where amber heatwave warnings were in effect. 
Timely communication
With a forecast high of 31°C for Monday in parts of the UK, the body Public Health England had Friday issued a 'heat health warning' advising people to take extra care.
Standing heatwave guidance from the British Red Cross, which says a heatwave is "generally when the temperature exceeds 30°C during the day and 15°C at night on consecutive days," advises people to tune in to weather forecasts, avoid going out between 11 a.m. and 3 p.m., wear light, loose-fitting clothes, drink plenty of water, and look out for the elderly, among other measures.
The Netherlands Red Cross today said the national heat plan, an initiative it drafted with the health ministry and other agencies, was now in force in Limburg, Noord-Brabant, Zeeland, Zuid-Holland, Utrecht, Gelderland and Overijssel.   
A scientific conference two years ago at UNESCO headquarters in Paris in the run-up to COP 21, put heatwaves top of a list of weather extremes exacerbated by climate change. 
Climate Centre Director Maarten van Aalst told delegates timely communication such as the climate attribution of the severe European heatwave in 2015 meant "we can communicate the science to the general public when it matters".
Reports from Portugal describe the Pedrogao Grande forest fire as the worst in recent decades; it may have started after a lightning strike and was fanned by dry, gusty winds amid another intense heatwave affecting western Europe. (Photo: Portuguese fire service via Twitter)