IFRC seeks support for people in Bangladesh 'facing full onslaught of the monsoon season'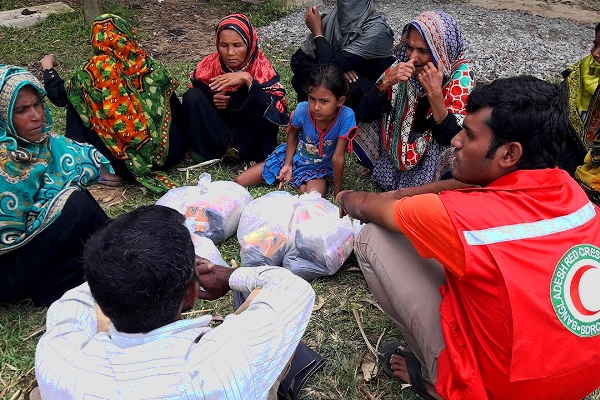 13 June 2017
(This story is an IFRC press release issued earlier today in Dhaka and Kuala Lumpur.)
South-east Bangladesh is reeling from the effects of the monsoon season as days of severe rains have triggered landslides in the Chittagong Hills, reportedly killing more than 40 people and leaving dozens missing.
This latest disaster comes in the wake of Cyclone Mora that battered the same region barely two weeks ago.
It brought high winds, heavy rains and tidal surges which triggered widespread flooding that left more than 50,000 homes damaged or destroyed in the districts of Cox's Bazar, Chittagong and Bandarban and affected around 3.3 million people.
The landslides and torrential rains in recent days are worsening the situation for coastal communities who have been struggling to rebuild their lives and livelihoods in the aftermath of Cyclone Mora.
                            'We are dealing with back-to-back disasters'
Among those hardest hit by the cyclone were thousands of migrants from Rakhine state in Myanmar who live in areas close to the coast in Cox's Bazar district.
An estimated 150,000 people were affected after Cyclone Mora flattened many of the shelters in the informal settlements where they reside.
"South-east Bangladesh is facing the full onslaught of the monsoon season," said Azmat Ulla, head of the IFRC Bangladesh office. 
"We are dealing with back-to-back disasters at the moment and the volunteers of the Bangladesh Red Crescent are out in force helping these stricken communities."
In response to Cyclone Mora, the IFRC and the Bangladesh Red Crescent Society (BDRCS) have launched an emergency appeal of US$1.3m to provide emergency assistance to 50,000 people living in Cox's Bazar, Chittagong and Bandarban.
Under the appeal BDRCS staff and volunteers will distribute dry food rations and household items to families affected by the cyclone, together with toolkits for repairing shelters and cash grants to help restore lost livelihoods.
Repairs and improvements will also be made to damaged sanitation facilities and water supply systems.
Cash grants
"On top of losing their homes and few possessions, many people have also lost their food stocks," said Azmat Ulla.
"We need to ensure that people have a roof over their heads and sufficient nutritious food". Access to clean water and sanitation is also crucial to stop the spread of diseases."
Prior to Cyclone Mora making landfall, the BDRCS helped evacuate over 300,000 people living in coastal areas.
The Red Crescent also distributed cash grants of 5,000 taka (US$60) to 2,300 families in Hatiya upazila in the coastal district of Noakhali, as part of the forecast-based financing programme supported by the German Government and the German Red Cross with technical support from the Climate Centre.
To date, more than 25,000 people have received dry food supplies from the Red Crescent, while 1,000 shelter toolkits and 2,000 jerrycans will be distributed in the affected districts in the coming days.
(Note to editors: The IFRC launched an international appeal to support 25,000 people from Rakhine state in Myanmar who fled to Bangladesh, and this will be adjusted to provide additional support to communities from Myanmar who have also been impacted by Cyclone Mora.)
A BDRCS volunteers in Cox's Bazar discusses local needs with a group of women and children. The south-east of the country is reeling from the effects of a destructive monsoon season as days of severe rains have triggered lethal landslides in the aftermath of Cyclone Mora. (Photo: BDRCS)