Turn down the heat(wave)! Red Cross flash mobs in India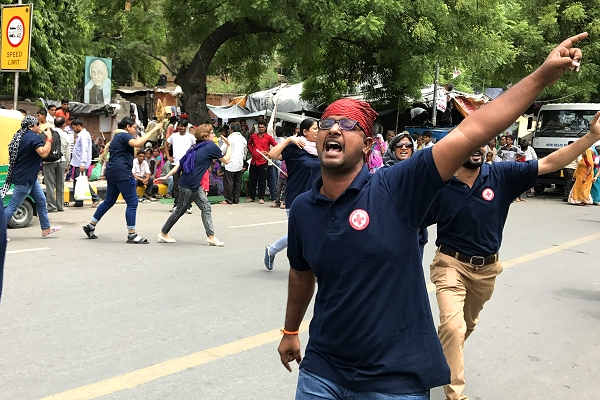 12 June 2017
They came out of the blue and stopped people in their tracks. In crowded markets, in parks and even at the airport, a 15-member Indian Red Cross Society (IRCS) contingent of young staff and volunteers had found a new way to inform people how to prepare for heatwave temperatures that hit 43°C in Delhi last week.
It was a unique five-day training and field experience that brought together the Red Cross group, aged 18-32, to show how to make flash mobs happen – definitely more eye-catching and effective than traditional 'do's and don'ts' leaflets.
"The first day it was all so new," said Megha from Uttar Pradesh, where temperatures had just peaked at 48°C. "I wondered if we could really do a flash mob!"
A sentiment that echoed through the group, both because they had all met for the first time, because 'flash mob' was an entirely new concept for them, and because the training sessions they were used to revolved around PowerPoints and passive listening. 
"The first day was amazing!" said Bijaylaxmi from Odisha which had issued an orange alert for heatwave. 
"Such a different kind of introduction. I was nervous to be among all these new people. But that day, I learnt about communication, coordination and attitude. In my state, I think we write more than we talk!" 
'Rest, rest, rest'
The jingles and moves for the flash mob were jointly created by the group themselves and facilitated by the Climate Centre. 
The messages were simple: drink more water, keep your head covered, eat before you go out, and "rest, rest, rest" between noon and three – the hottest hours of the day. 
Theatre artist Dilip Shankar and Bharatnatyam dancer-cum-vocalist Radhika Kathal each spent two hours with the group, teaching them how to use their bodies and voices and helping to break down cultural and social barriers. 
A total of eight flash mobs were held over four days in different parts of the city. Onlookers gathered as the flash mobbers made their moves. Together, they numbered an estimated 1,600 people. 
The messages were well received and often repeated verbatim. Perhaps the most crowded was the pilot flash mob at Sarojini Nagar market in south Delhi where street vendors, shoppers, shop owners and passers-by were stunned when they suddenly heard shouts of 'heatwave' and saw the group coming towards them. 
It even led to a heated debate between two vendors on whether they had the time to rest given that they had a hard job earning money! Interestingly, the younger of the two was heard trying hard to convince the other that resting for a short while was something they owed to their own well-being. 
Flash mobs were also held in and around Connaught Place, a central market popular with tourists. 
'Messages'
In a surprising turn of events, Delhi's Airport Authority invited the Red Cross to hold flash mobs in four different parts of the international and national airport to inform visitors and workers how to deal with heatwave temperatures. 
"The big crowd at the cargo terminal at the airport was impressive," said Ravi Kumar from Andhra Pradesh. 
"The message spread quickly among the workers, much more quickly than perhaps in some other locations because they really did work in the heat and really require water and rest." 
Ravi added: "I had never done an activity like this before. But now I feel like I can do it anywhere. Especially after doing the flash mob at the airport where there is such high security, I have the nerve to take this form of communication anywhere!" A promise that was echoed by the entire group. 
Said Jayesh Solanki from Gujarat: "I find this is a very easy communication tool to use with poor communities because the messages can be given simply and clearly and in an interesting manner." 
Arti Srivastava from Uttar Pradesh agreed: "What I learnt was that a flash mob is very easy to create and execute. You have the messages and you can put it together very quickly. 
"I've done street plays before, but this is a way simpler method. I will try to do this in the districts to teach and empower the volunteers who are at the heart of our Red Cross Movement." 
Some of the 15-strong Indian Red Cross contingent of young people who formed flash mobs around Delhi to convey messages on heatwave safety, shown here at Jantar Mantar Road. The group were also invited to perform at the city's international airport. (Photo: Aditi Kapoor/Climate Centre)