Guterres: Climate change 'far and away' tops list of global megatrends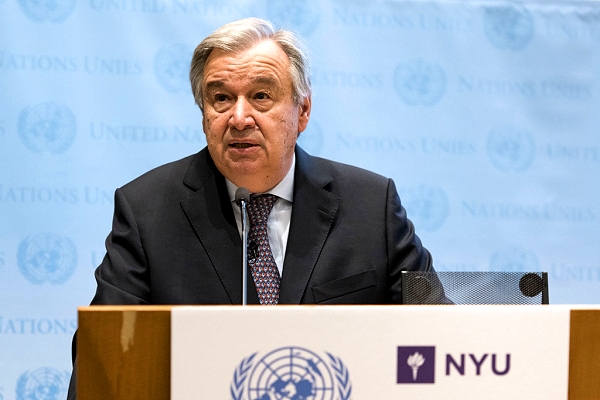 2 June 2017
The UN Secretary-General, Antonio Guterres, has warned that climate change "far and away" tops a list of global megatrends putting countries and communities under pressure that includes population growth, rapid urbanization, food insecurity, water scarcity and population movement.
He told an audience Tuesday at New York University's Stern School of Business: "Climate change is a direct threat in itself and a multiplier of many other threats, from poverty to displacement to conflict."
He argued there were several reasons that it was "absolutely essential" for the world to implement the Paris agreement.
Climate-related  "disruption is happening even faster than expected," he said. "Last year was once again the hottest on record. The past decade has also been the hottest on record.
"Every geophysical system on which we depend is being affected, from mountains to oceans, from ice caps to forests, and across all the arable lands that provide our food."
               'If we want to protect forests and life, safeguard oceans,
               create economic opportunities, prevent massive losses,
               and improve health and well-being of people and planet,
              we have one option staring us in the face: climate action'
What Mr Guterres called "slow-motion disasters" were are also speeding up.
"Areas where drought once struck every decade are now seeing cycles of five or even two years between droughts. Moreover, dry spells are lasting longer, from California to the Sahel."
With vulnerable people hit worst, with women and girls disproportionately affected by disasters, with the nations least responsible for – and equipped to deal with – climate change facing the worst consequences, the moral imperative for action was clear, the UN chief said.
"As regions become unliveable, more and more people will be forced to move from degraded lands to cities and to other nations. We see this already across North Africa and the Middle East.
"That is why there is also a compelling security case for climate action.
"Around the world, military strategists view climate change as a threat to global peace and security."
Mr Guterres said it was increasingly understood that implementing the 2030 Agenda for Sustainable Development – the global goals – went hand-in-hand with climate action.
Every month, more countries were translating their Paris pledges into national plans, but there was a need for "ever-broader coalitions – with civil society and business, with cities and states, with academia and community leaders".
Thousands of private corporations, including major oil and gas companies, were taking their own action in the knowledge that "green business is good business".
"If we want to protect forests and life on land, safeguard our oceans, create massive economic opportunities, prevent even more massive losses and improve the health and well-being of people and the planet," Mr Guterres added, "we have one simple option staring us in the face: climate action."
'Be the change'
As UN Secretary-General, he said he was committed to mobilizing the world to meet the challenge of climate change by:
*Intensifying high-level political engagement to raise the bar on climate action beyond Paris
*Rallying the capacity of the UN behind climate action and the global goals, especially at country level where "true change" was achieved
*Using the UN's convening power to work with governments and the coal, oil and gas industries to accelerate energy transition
*Working with countries to mobilize resources to support mitigation, adaptation, resilience and the implementation of national climate plans  
*Encouraging partnerships for implementing the Paris agreement through North-South, South-South and triangular cooperation.
Mr Guterres was also convening a new climate summit in 2019 to ensure the critical first review of Paris implementation was reached "with the strong wind of a green economy at our backs". 
He concluded: "All of us – governments, businesses, consumers – will have to make changes. More than that, we will have to 'be' the change." 
Mr Guterres also applauded the "immense efforts" of his predecessor Ban Ki-moon, who had brought the essential stakeholders together to help forge the Paris agreement.
Among these is the 'A2R' initiative on climate resilience, announced at the 2015 Paris COP meeting, to address the needs of nearly a billion people living in vulnerable coastal areas and regions exposed to droughts, floods, storms and other climate risks.
A2R's leadership group, appointed by Mr Ban, includes Climate Centre Director Maarten van Aalst, who said Friday the Red Cross and Red Crescent "looks forward to continuing to collaborate with the Secretary-General's global efforts on climate, especially through initiatives like the IFRC's One Billion Coalition and the Partners for Resilience alliance.
"We're also committed to scaling up practical solutions like forecast-based financing and making a real difference in local communities, as we saw this week when Storm Mora hit Bangladesh." 
UN Secretary-General Antonio Guterres addresses the audience at New York University's Stern School of Business on Tuesday. Climate-related  "disruption is happening even faster than expected," he said. (Photo: Mark Garten/UN)