Kenya Red Cross volunteers overcome natural barriers to deliver humanitarian support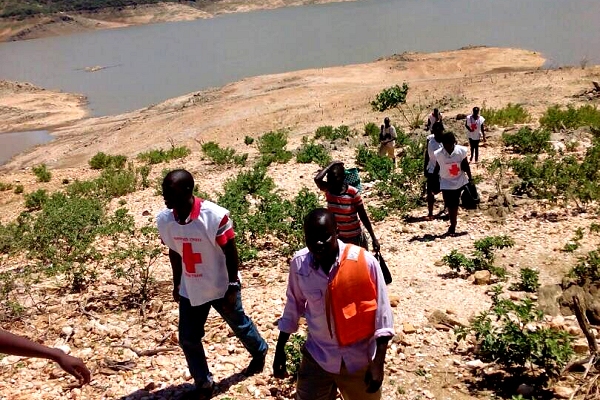 1 June 2017
(This story first appeared last week on the IFRC website. Kenya's drought broke last month with heavy rain across the country that caused lethal flash floods and displaced tens of thousands of people in 13 counties.)   
Rural communities across Kenya are facing growing levels of food insecurity. Already the crisis has affected more than 3 million people and despite the current wet weather, experts have warned that the rains may not be enough.
The Kenya Red Cross Society (KRCS) is using a variety of approaches to help families fight off famine, including cash and traditional forms of humanitarian assistance.
Cash assistance to families in need is already making a positive impact, helping thousands of people to avoid starvation. It allows families to survive through the crisis with some dignity; they choose what to eat and are able to meet other pressing household needs.
Early assessments by the KRCS have shown that many households in dire need are in isolated and hard to reach areas. Red Cross teams have had to overcome rivers and hilly areas in order to reach those in need.
A recent field visit by the cash transfer programme team to Reres, Chepokachim and Kodungole villages in West Pokot illustrates some of the challenges faced in assisting these rural communities.
The villages are located along the Turkwel dam and can only be accessed by boat, followed by trekking along hilly and rocky paths.
'Commitment'
"We came from the dam's margin to Reres village, covering about two kilometres then proceeded to Chepokachim village, another four kilometres, to catch the next boat," explained Carlos Kibet, KRCS cash transfer programme officer.
"After the long walk, we had to wait for about an hour before the boat arrived. The interesting part is the commitment I saw in my team members, eager to reach and serve the residents of West Pokot."
On the first day, the Red Cross team managed to visit two villages where they identified and registered 155 households. The process continued the next day to Katukumwok village, where a further 40 households were registered.
"I don't have words to express my gratitude. God must have sent you to rescue us from hunger. I lost all my cows to the drought," said Cheptilak Yaradomee, a resident of Kasitei.
"Our area is dry and we can rarely plant crops. Hunger has been our great enemy. It is hard to get money because there is nothing to sell now," he continued.
Cash
Poor roads and telecommunications did not deter the visiting team, who were keen to reach all the identified villages. This was the first time these village communities have benefitted from cash support.
"Cash transfer programme registration in these areas has been experiential, motivating and strengthening to our spirit of serving humanity," said Caleb, one of the Red Cross volunteers involved in the programme.
"We thank the Red Cross for the love they have shown to us," said Chepochekichup Meriongor, a community leader.
"This is the first time we will receive relief money. We are used to being given relief foods that do not reach the whole community."
The cash transfer programme makes up 75 per cent of the KRCS response in 14 affected counties.
Other forms of assistance include distribution of food, health and nutrition support, rehabilitation of key communal watering points, and destocking, where animals weakened by the drought are sold for meat.
The KRCS cash transfer team visiting villages in West Pokot recently. Their field trip illustrated the challenges in assisting remote rural communities that can only be accessed by boat and then by trekking through rocky terrain. (Photo: KRCS)