Cancun round-up: Gender, data, and 'early warning for all' among prominent themes at close of Global Platform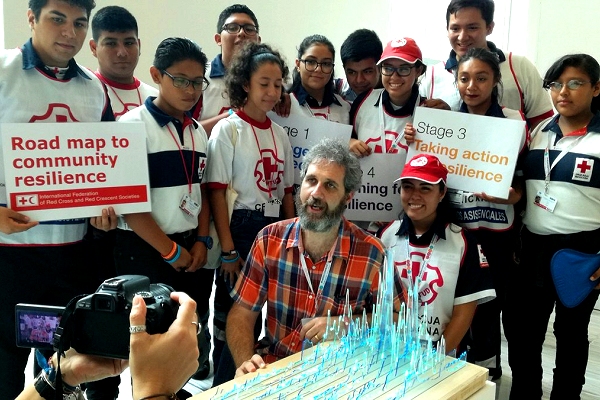 31 May 2017
'Early warning for all' was one of the many humanitarian headlines generated by the 2017 Global Platform for Disaster Risk Reduction, which ended in Cancun, Mexico last week.
"We are living in a world of science, innovation and technology, which offers great opportunities to understand what is happening today and what will happen tomorrow in terms of disaster risk," the UN report beneath it quoted Armenia's Minister of Emergency Situations, David Edgar Tonoyan, as telling a special session in Cancun.
"Multi-hazard early-warning systems and…information are very important components for effective disaster-risk management," said Tonoyan in his chair's opening remarks.
Advances in warning and in the awareness of risk had saved tens of thousands of lives and hundreds of billions of dollars.
Elliot Jacks of the US National Weather Service told the same meeting "it is travelling the last mile that really matters", so timely and meaningful warnings reach exposed and vulnerable communities, while Molly Nielson, Principal Disaster Management Officer for the Samoan government, said her island nation was developing a multi-hazard warning system that also drew on traditional knowledge.
Just a few days later – and as if to vindicate them all – the IFRC reported that early warning early action had saved thousands of lives as Cyclone Mora struck Bangladesh, in a Red Crescent operation that also included the first use of forecast-based financing there ahead of a disaster and the first cash-based FbF operation anywhere in the world.
      'The response can be as simple as reinforcing riverbanks 
                                      or establishing early-warning systems
                          that give communities time to prepare or flee'
A joint statement after a leaders' forum – the Cancun high-level communique – recognized that early warning and forecast-based actions were an "effective way of strengthening normative and regulatory frameworks", alongside investment in disaster-resilient infrastructure and safer housing.
Early warning for developing countries, meanwhile, was among five key recommendations contained in the an overview of the chair's summary presented at the close of the Global Platform by the Mexican Minister for the Interior, Miguel Angel Osorio Chong, as well as national databases on losses, empowerment of local authorities to manage risk, economic planning that includes consideration of risk, and the empowerment of women for leadership roles in the field.
The IFRC joined forces with UN Women and UNISDR, the Global Platform organizers, in an initiative – to be known as 'GIR' – to address the unequal way risk affects men and women and promote "community resilience to natural hazards in a changing climate". 
"The Red Cross and Red Crescent is committed to tackling gender inequality and to promoting the leadership of women and girls in disaster management and disaster risk reduction," said Jemilah Mahmood, IFRC Under Secretary General for Partnerships.
'Fundamentally inappropriate'
"The truth is that natural disasters should be a major concern for all of us," wrote IFRC Secretary General Elhadj As Sy in an article for the Thomson Reuters Foundation on the eve of the Global Platform.
Last year, 445 million people were affected by storms, floods, droughts and earthquakes, he recalled, and the World Bank estimates that, on average each year, disasters push 24 million people – equivalent to the combined population of Guatemala and Honduras – into poverty.
But a system that just waited for a disaster instead of doing what it can to prevent or minimize its impact was "fundamentally inappropriate", Mr Sy argued.
"More investment and energy need to go towards reducing the risks and vulnerabilities that are exploited by natural hazards.
"The response can be as simple as reinforcing flood-prone riverbanks, or establishing early-warning systems that give communities time to prepare or flee."
The IFRC, he wrote, supported the One Billion Coalition from a desire for a focus "as much on reducing vulnerability tomorrow as…on responding to needs today".
'Water dynamics'
A key component of '1BC', as it's known, is the Netherlands-based Partners for Resilience (PfR) alliance, which organized several side-events at Cancun, on climate adaptation, ecosystems, and (jointly with the African Unnion) the devastating impact of the 2015–16 El Niño.
Pointing out that 90 per cent of all disasters are water-related, PfR steering group chair Juriaan Lahr of the Netherlands Red Cross told delegates it was "essential to understand and address 'water dynamics' in the larger landscape through risk assessments and multi-stakeholder approaches".
"Effective dam operations," for example, "integrating meteorological services could [help] downstream communities by passing information on when the best time has come to start planting, as they can anticipate water-flow levels downstream."
Hence PfR's call at Cancun for speeded-up "implementation of ecosystem-based and climate-science solutions that strengthen and protect livelihoods, save lives and protect the environment." 
The Cancun meeting, from 22 to 26 May, was the first global gathering on disaster risk reduction since the 2015 adoption of the Sendai Framework in Japan.
Climate Centre Associate Director for Research and Innovation, Pablo Suarez, presents 'Go with the flow – A flood-risk data sculpture' at Cancun, together with youth volunteers from the Mexican Red Cross. It shows ten years' worth of flow data at the Nangbeto Dam in Togo and is "a blend of art and science". Better use of data and science were prominent among themes emerging from the Cancun Global Platform.
(Photo: Mauricio Saldivar via Twitter.)