Bangladesh Red Crescent Society distributes FbF cash to households in the path of Storm Mora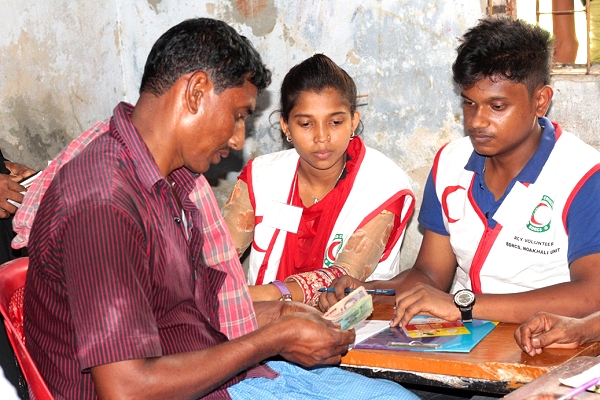 30 May 2017
(This story appeared first earlier today on the news site of the IFRC, which reports that thousands of lives have been saved by early warning early action in Bangladesh as Mora struck.)
The Bangladesh Red Crescent Society (BDRCS) yesterday distributed a humanitarian cash grant to 2,300 households threatened by Cyclonic Storm Mora, then over the east-central Bay of Bengal and intensifying.
The households in Hatiya upazila, in the coastal district of Noakhali, received a grant of 5,000 taka (60 euros) as part of the forecast-based financing (FbF) programme, supported by the German government and the German Red Cross with technical support from the Climate Centre.
Noakhali was one of 15 districts, including Cox's Bazar and Chittagong, and offshore and riverine islands (chars), whose low-lying areas faced a "storm surge of 4–5 feet above normal astronomical tide," according to the Bangladesh Meteorological Department.
Gusts of up to nearly 120 kilometres per hour were forecast and all fishing boats and trawlers that would normally operate in the northern Bay of Bengal were advised to remain in port.
'Earlier, smarter'
The BDRCS cash distribution involved both private banks and the Post Office, and was partly carried out via mobile phone after registration of FbF financing beneficiaries by Red Crescent youth volunteers.
"Forecast-based financing is a great example of science-based early action getting resources to the local level ahead of a disaster," said Climate Centre Director Maarten van Aalst.
"We need to act earlier and be smarter in the face of rising risk, as highlighted at the recent climate negotiations in Bonn and the Global Platform on Disaster Risk Reduction in Cancun.
"With the help of partners, especially Germany's Federal Foreign Office, the Red Cross and Red Crescent is 'walking the walk' on this with FbF, as demonstrated by these early actions in Bangladesh, creating a window for more effective use of humanitarian resources."
Mora made landfall at around 06:00 local time near Cox's Bazar.
The Bangladesh Red Crescent Society distributed humanitarian cash to 2,300 households threatened by Cyclonic Storm Mora a day ahead of its landfall, part of the German-supported forecast-based financing programme in the country. (Photo: Muhammad Mamtaz Uddin/DRK)