Future risks high on agenda at UN climate meeting in Bonn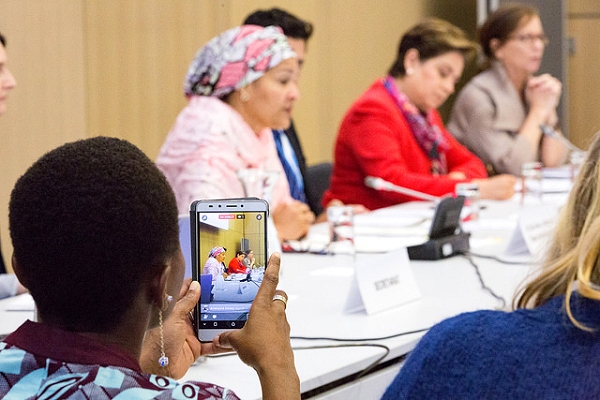 15 May 2017
African scientists say their continent – already one of the warmest land masses on Earth – is warming faster than the global average.
A presentation given at the UN climate meeting in Bonn last week and reported by the UNFCCC says African warming in 2016 "was 1.3°C above the 1961–1990 average, [just] behind the year 2010 which was the warmest year on record since 1950, with 1.4°C above average."
The findings were presented by Andre Kamga Foamouhoue of the Niger-based African Centre of Meteorological Applications for Development (ACMAD).
The presentation said that since 1990, the average warming rate in Africa would have been close to 4°C if continued for a century, and added: "Implementation of the Paris agreement is a matter of emergency for Africa!"
ACMAD scientists say that to significantly reduce impacts, governments and regional organizations need to "use hazards outlooks to switch from current post-disaster management to future disaster risk-management."
Their paper and other recent academic findings were presented as part of a 'research dialogue' held alongside the Bonn meeting.
                                             'Systematically addressing impacts
                                                                       before they happen'
 
Kulthoum Omari of the Africa Adaptation Initiative told a Bonn side-event chaired by Climate Centre Director Maarten van Aalst that Africa needed assistance to adapt to the climate impacts it is facing.
So far only a few Africa states had plans for adaptation, she explained; African governments needed short-term support to develop 'NAPs' together with partners and donors.
Emmanuel de Guzman, who led the Philippines delegation at COP 21 in Paris in 2015 and is one of three commissioners at the Philippine Climate Change Commission, told the side-event ('Anticipate, Absorb, Reshape: Measuring progress and promoting innovations in global adaptation') that action "based on heightened risks and reliable forecasts is something we are strongly exploring now".
He added that "risk management, anchored in probabilistic risk-assessment, is an innovation that would enable countries to systematically address future impacts before they happen."
Climate change initiatives were being mainstreamed at the local level, he said, "working with local government units and civil society organizations, especially the Philippine Red Cross, and other key stakeholders."
He added: "These local climate change action plans adopt a comprehensive and integrated risk management approach that specifies and articulates adaptation strategies and investments, including options for sustainable livelihood, fully aware of the climate outlook."
Emmanuel de Guzman was invited to the Bonn side-event by the Partners for Resilience alliance in the Philippines, which works closely with all sectors through integrated risk management putting communities at centre stage; the approach is also at the core of the 'Proud of my Purok' programme there.
'Climate lens'
Samantha Harris, Manager for Climate Change at Business for Social Responsibility, drew attention at the side-event to the critical role of the private sector in reaching resilience goals.
"Many businesses need to look at applying a climate lens to traditional risk assessments, not only looking at their infrastructure but also asking: How vulnerable are our suppliers to a changing climate, and how could the communities where we're based and our employees live be affected?"
These issues – linking economic and social development, and the management of extreme events and climate adaptation – will be a focus of the second week of this round of UN climate talks in Bonn, including a special expert session on adaptation.
This 'technical examination process on adaptation', established at COP 21 in Paris, seeks to identify opportunities for strengthening resilience, reducing vulnerabilities, and increasing the understanding and implementation of adaptation actions.
A delegate at the UN climate meeting in Bonn takes a smartphone picture of the UN Deputy Secretary General Amina J. Mohammed, Nigeria's former environment minister. She said the UN continued to seek strong action for implementation of the Paris agreement, stressing the importance of collective responsibility and underscoring the urgency of attention to the most vulnerable communities. (Photo: UNFCCC via Flickr)