Can the Red Cross Red Crescent help dam operators reduce risk downstream? 'Yes'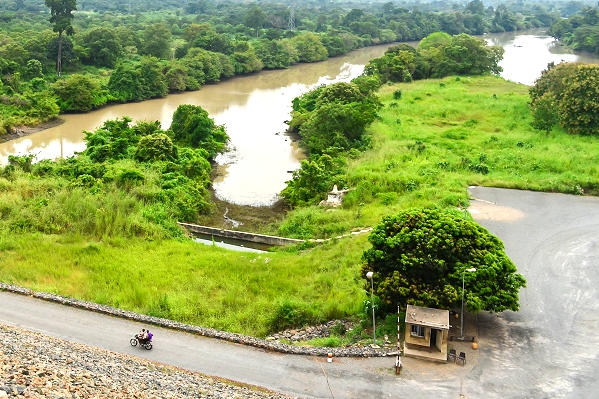 11 May 2017
An embryonic new phase of the relationship between dam operators and humanitarians concerned with downstream impacts has been welcomed by the Secretary General of the Ethiopian Red Cross Society, Frehiwot Worku.
She was speaking in Addis Ababa at the World Hydropower Congress, which was held in Africa for the first time and ended today (video highlights).
"Dam-related flood-risk management would be an addition to our humanitarian work to mitigate risk to communities," she told the meeting.
"We would like to join the collective effort to design and implement dam-safety measures and policies, as well as jointly explore new scientific approaches to flood-risk management.
"I have no doubt that the forecast-based financing and machine learning that has been piloted in West Africa would be of great interest to us here in East Africa."
                                               'That immediately gives us
                                                        something in common'
A side-event organized by the IFRC, the Climate Centre and the Global Facility for Disaster Reduction and Recovery (GFDRR) gathered government officials, disaster managers, dam operators, researchers and other experts attending the congress to explore ways to manage the risk of floods downstream from dams.
It focused on the two new humanitarian tie-ins for the hydropower sector referred to by Frehiwot Worku: forecast-based financing (FbF), supported by the German government and Red Cross, and machine learning, including a new form of 'data visualization' for the sector developed by the Climate Centre.
'Great complementarity'
Responding to a tweet wondering if there was a role for the Red Cross Red Crescent in helping dam operators reduce flood-risk downstream, IFRC Under Secretary General, Partnerships, Jemilah Mahmood, tweeted: Yes!
"Hydropower dams and the energy they generate are a lifeline for many communities, and working with the IFRC on forecast-based financing can reduce the risk of damaging floods downstream after releases," she said today.
"Hydropower is part of society. We provide, as best we can, clean energy and manage fresh water, and we also worry about climate and solutions to climate change," according to Richard Taylor, Chief Executive of the International Hydropower Association (IHA), the congress convenors.
"I think that immediately gives us something in common. The IHA has really been very pleased to partner with the Red Cross on how we can work together on the challenge of flood preparedness.
"Very often floods are having to be managed by dams. They mean that communities need to be prepared for these challenges, increased and amplified by climate change.
"We are very happy and willing to work together. We think it's a great synergy, great complementarity…"
'Machine learning'
In Togo, FbF has been piloted with a new digital tool called FUNES: Red Cross volunteers collect rainfall data in the Mono river basin upstream of the Nangbeto dam (photo); a 'self-learning algorithm' estimates overspill risks, enabling operators to plan releases and humanitarians to better prepare communities downstream after radio alerts.
The system was rolled out there in September 2016 and earlier this year it won a global innovation award at the World Government Summit in Dubai.
Many congress participants experienced FbF in Togo in virtual reality.  
"This innovative collaboration between dam operators, risk managers and experts on machine learning can help developing countries better understand and reduce their vulnerability to natural hazards and climate change," said Francis Ghesquiere, chief of the World Bank-hosted GFDRR.
Nangbeto provides electricity to Togo and neighbouring Benin; globally hydropower provides 70 per cent of the world's renewable electricity, supplying more than a billion people.
Looking downstream along the Mono river from the crest of the Nangbeto dam in Togo, where Red Cross volunteers collect rainfall data upstream. A 'self-learning algorithm' then estimates overspill risks, enabling operators to plan releases and humanitarians to prepare communities downstream. (Library photo: jbdodane via Flickr)