Probability of El Niño this year at least 50%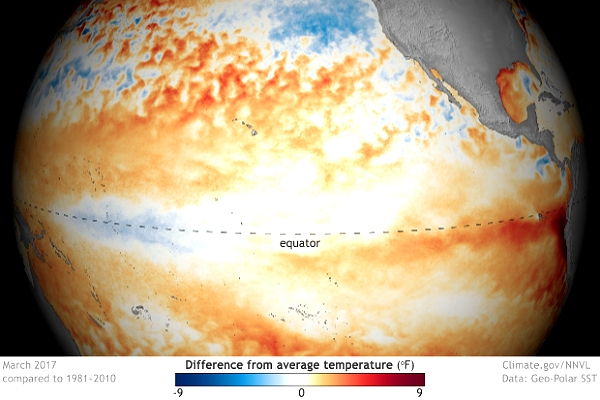 2 May 2017
Although they emphasize the difficulty of forecasting at this time of year, the chances of another El Niño event later in 2017 are now assessed as at least 50 per cent by leading international forecasters.
A statement from the Geneva-based World Meteorological Organization (WMO) on Friday said there was now a "50–60 per cent chance" of a return of the Pacific warming phenomenon after June, but it cautioned that ENSO predictions made before June for the rest of the year "typically have less certainty than outlooks made later", because of the 'spring predictability barrier'. 
Maxx Dilley, Director of Climate Prediction and Adaptation at the WMO, said the strong 2015–16 El Niño had been associated with droughts, floods and coral bleaching around the world, and when "combined with long-term climate change [increases in] global temperatures to new record highs in both 2015 and 2016.
"Accurate predictions of the most recent El Niño saved untold lives. Our greatly improved ability to forecast El Niño and La Niña events contributes to the public good and is essential for the agricultural and food security sectors, for management of water resources and public health, as well as for disaster risk reduction."
"We can't ignore it"
In its own climate briefing last month, the International Research Institute for Climate and Society (IRI) – the IFRC's forecasting partners – reported shortening odds on El Niño.  
IRI Chief Forecaster Tony Barnston said that for at least two months, many climate models had been predicting an El Niño after the current ENSO-neutral period.
IRI put the odds now of an El Niño forming in the late northern hemisphere summer and lasting for the rest of the year at 50–55 per cent, he said, and "we can't ignore it"; but Barnston also cautioned that predictions at this time of year were more difficult than later.
Because of the forecast, the current IRI climate briefing included typical El Niño effects, Barnston added, including possible dry conditions in Indonesia and in northern South America, as well as the far west of the African Sahel and eastern Australia.
The Australian Bureau of Meteorology's outlook issued last week, meanwhile, remains at 'watch' status, meaning, it said, "around a 50 per cent chance of El Niño developing in 2017, which is approximately twice the normal likelihood."
The US Climate Prediction Center's ENSO alert system status is currently 'not active', but "with increasing chances for El Niño development by late summer and fall."
Different agencies have slightly different criteria for assessing ENSO conditions, but IRI seasonal forecasts are regarded as the most useful basis for humanitarian decision-making by National Societies and disaster managers.
Pacific surface temperatures in March compared to the average for 1981 to 2010. (Image: NOAA)