'AR6' scoping meeting underway in Addis Ababa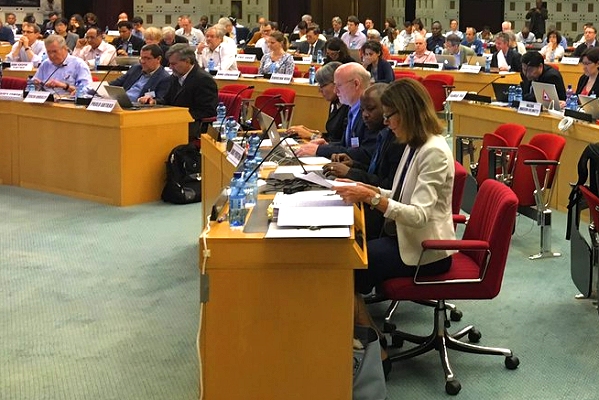 1 May 2017
A scoping meeting by the Intergovernmental Panel on Climate Change (IPCC) to prepare for its next assessment of the global climate – the sixth, known as 'AR6' – got underway in the Ethiopian capital Addis Ababa today. It will draft the "outline and indicative coverage" for AR6, an IPCC press release said.
The AR6 synthesis report is due out in time for the first 'stocktake' in 2023 by the United Nations Framework Convention on Climate Change under the Paris agreement on the global climate.
The meeting gathers some 200 experts from 60 countries; it's also being attended by Climate Centre Director Maarten van Aalst.
Last month the an 'International Conference on Climate Risk Management', co-sponsored by the IPCC and hosted at the Kenya Red Cross in Nairobi, generated recommendations for AR6, with a special focus on the most vulnerable.
Its outcomes, transferred to the current meeting in Addis Ababa, included advice on risk, timelines and priorities, especially for Working Group II on impacts and adaptation.
'Decisive step'
That meeting was convened jointly by the IPCC and the Climate Centre and attended by the group's co-chairs, Dr Hans-Otto Pörtner and Dr Debra Roberts, who said an ambitious call for deeper scientific assessment on how to reduce risk represented "a new era" for the IPCC.
The Addis Ababa scoping meeting, which lasts all week, is "a decisive step to advance the work plan of the IPCC," said IPCC Chair Hoesung Lee.
"During the AR6 cycle we will see one or more policy-relevant reports released almost every year from 2018 until 2022."
The last global assessment provided vital input to the 2015 Paris agreement, which said that limiting warming to 2ºC relative to pre-industrial levels would "require substantial emissions reductions over the next few decades," the IPCC said last week.
'Timely events'
AR6 will assess the scientific research published since then, informing not only the stocktake on the Paris agreement but also wider climate risk, reflecting how climate change is becoming integral to decision-making on development from global meetings to communities facing extreme events today.
"Africa is vulnerable to climate change, but various adaptation and mitigation options exist to make society more resilient and create opportunities for a sustainable future," IPCC Vice-Chair Youba Sokona told a regional meeting on climate policy in Addis Ababa last week.
"We hope that these timely events will encourage more scientists from the region to participate in the work of the IPCC during the AR6 cycle."
The first session in Addis Ababa on Monday morning of the scoping meeting that will generate input to the next IPCC assessment of the global climate, the sixth, known as 'AR6'. (Photo: IPCC via Twitter)