Hydropower and humanitarian sectors joining forces to combat flood risk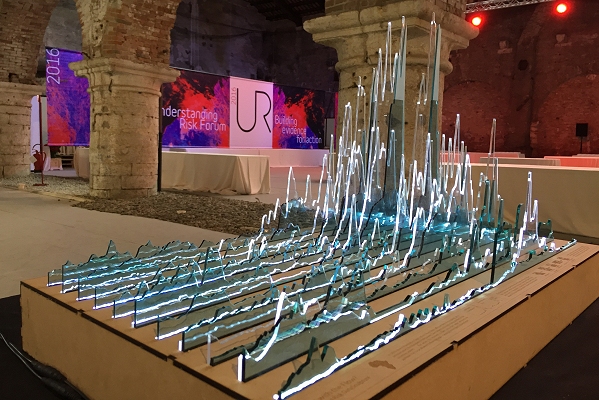 25 April 2017
A Red Cross side event at next month's World Hydropower Congress in Addis Ababa organized by the IFRC, the Climate Centre and the Global Facility for Disaster Reduction and Recovery will gather governments, disaster managers, dam operators, researchers and other experts to explore new ways to manage the risk of floods downstream from dams (agenda).
This year's congress is the first to be held in Africa, and the side-event will focus on two new humanitarian tie-ins for the sector: forecast-based financing (FbF), supported by the German government and Red Cross, and 'machine learning'.
In Togo, FbF is being piloted with a digital tool called FUNES: Red Cross volunteers collect rainfall data in the Mono river basin upstream of the Nangbeto dam; a 'self-learning algorithm' estimates overspill risks, enabling operators to plan releases and humanitarians to better prepare communities downstream after radio alerts.
Congress participants will experience FbF in Togo in virtual reality.  
'Humanitarian outcomes'
The system was rolled out in Togo last September 2016, and earlier this year it won a global innovation award at the World Government Summit in Dubai.
"This innovative collaboration between dam operators, risk managers and experts on machine learning can help developing countries better understand and reduce their vulnerability to natural hazards and climate change," Francis Ghesquiere, chief of the World Bank-hosted GFDRR said today. 
Pablo Suarez, the Climate Centre's Associate Director for Research and Innovation, who will co-facilitate the Addis Ababa side event, added: "This is a great opportunity to open up a dialogue with all interested parties on 'hydro-humanitarian' collaboration to improve both dam operations and humanitarian outcomes."
Nangbeto provides electricity to Togo and neighbouring Benin; globally hydropower provides 70 per cent of the world's renewable electricity, supplying more than a billion people.
  'This collaboration can help developing countries
             understand and reduce vulnerability
                 to natural hazards and climate change'
"With the right policies and design, hydropower's operational flexibility and energy-storage capability can support rapid progress of other renewables," according to the 2017 congress website.
"By managing freshwater, hydropower can provide adaptation services by reducing the downstream impacts of flood and drought… 
"The challenge is to integrate past experience and new thinking, and then align policies and finance to incentivize the best types of project in the best locations."
Congress organizers say "better hydro in a changing world" is a central theme this year.
"We are proud to be convening the World Hydropower Congress for the first time in Africa", said Richard Taylor, CEO of International Hydropower Association.
"Hydropower's role is a dynamic that calls for an integrated approach, with a strongly connected sector, and a high level of collaboration.
A flood-risk data sculpture by Pablo Suarez at the 2016 Understanding Risk forum, showing river flow between 2005 and 2015 at Togo's Nangbeto dam. It uses data underpinning the FUNES tool that supports forecast-based financing there in "a blend of art and science". (Photo: Janot Mendler de Suarez/Climate Centre)