John Paul Kazungu: the human face of resilience in Kenya's drought-affected Kilifi county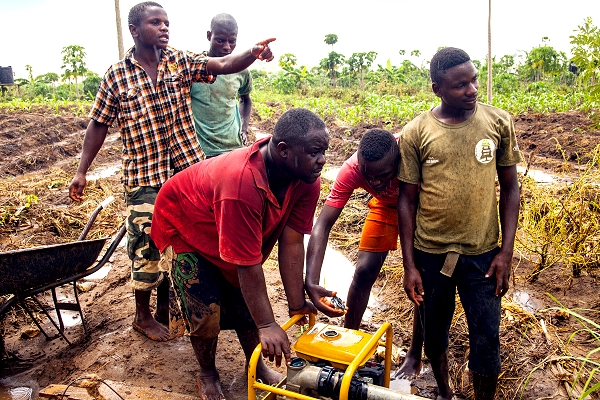 11 April 2017
(This is the second of two stories on the drought in Kenya that include aerial footage of the landscapes involved; a story posted yesterday centred on the Ewaso Ngiro river basin.)
If 'resilience' wears human faces in Kenya, one of them undoubtedly belongs to John Paul Kazungu – a 36-year-old farmer and father of five in the community of Lukole, in the hinterland behind the coastal city of Malindi.
The drought affecting much of Kenya has turned three out of five huge, hand-dug 'water pans' – reservoirs engineered to catch and retain rainwater – serving this part of Kilifi county into bone-dry moonscapes.
The water pans were organized by the Kenya Red Cross Society (KRCS) with donor support from the World Food Programme, and by Caritas.
Ironically, their exposed beds resemble miniature versions of the world-famous local tourist attraction at the Marafa Depression known as 'Hell's Kitchen' – a vast, ornate, jagged canyon carved out of the sandstone by wind and water.
But thanks to a simple but extremely effective furrow-irrigation system, the farm (photogallery) John Paul and his wife Grace run on the banks of the River Galana is a cornucopia that both feeds their family and provides a cash surplus from the 50 per cent or so of its output they sell.
The pipe network was installed by the KRCS with support from the Austrian and Finnish Red Cross and the Safaricom Foundation as part of another programme, the Integrated Community Resilience-Building Project (ICRBP), the final phase of which ends next year; other interventions included water and sanitation, health, and risk reduction.
Okra, kale, chilli
John Paul once farmed barely an acre, all of it rain-fed. He'd had a stroke of luck when his plot just escaped a major collapse of the river bank triggered by floods, but it was 'subsistence' and it was a struggle.
Once pipes were laid, however, his farm quickly tripled in size, and from his three acres he now produces an array of fruit and vegetables that would thrill even the best-supplied, first-world organic enthusiast: tomatoes, eggplant, pawpaw, passion fruit, sugar cane, banana, cassava, maize, amaranth, and – the ones regarded locally as the most drought-resistant – cowpea and green grams.
A squat, tough-looking, cheerful man, John Paul never looked back. Now he need only fire up his diesel-powered pump, charge the network either from his well or, if possible, direct from the river, and open it at a hydrant where water is needed; gravity does the rest.
Aside from anything else, it's relatively effortless and leaves precious energy to spare in the intense heat and humidity.
To his already impressive list of products, his neighbours – and there are just over 80 farmers locally who have been assisted in this way under ICRBP – could add okra, kale, chilli and green pepper.
From both the ground and the air,* the farms in the project area look and feel abundant, even though the drought is tightening its grip just a few kilometres away.
On John Paul's farm there is a distinct buzz; the various crops, with their different irrigation requirements and life cycles, need constant attention.
'You can't predict rains'
The Galana river they depend on – known by three different names: as the Athi upstream and the Sabaki downstream – has not yet completely dried up; were it to do so, John Paul would probably have no option but to dig his well deeper to get to the receding groundwater.
He would then undoubtedly have to irrigate more cautiously, but his crops would be starting from a much higher baseline.
In all likelihood, his farm would survive anything but the most exceptional drought. Like everyone, he's keeping his fingers crossed for the next rains, due to start about now but predicted by Kenyan meteorologists to be "depressed" – significantly below normal – in most of the country.
Halima Kassim Omar, a Malindi-based KRCS field officer, neatly outlines what is sure and what is not in the local food-security sector.
That people will try to grow and eat drought-susceptible maize come what may. Certain. That in normal times 'the river with three names' is enough for everyone. Certain. That well-engineered water pans will capture excess rainfall. Certain. That the rains will come on time and be adequate. Uncertain. 
"Nowadays," she says, "you cannot predict the rains".
*Note to editors: The DJI Phantom 4 camera drone used by the Red Cross to document the drought was supplied by the Climate Centre as part of its forecast-based financing programme for large-scale climate-related disasters in Africa, supported by the German Red Cross and foreign ministry. It was first flown in Uganda last year.
John Paul Kuzungu (centre with red shirt) and his workers water their crops using their Red Cross-supplied 'furrow irrigation' system. Since it was installed as part of an Austrian and Finnish Red Cross-supported project, his farm has tripled in size and now provides a significant cash surplus. (Photo: Alex Wynter/KRCS-Climate Centre)