The struggle for water in Kenya: Red Cross drone video shows grip of drought as global appeal raised to $25m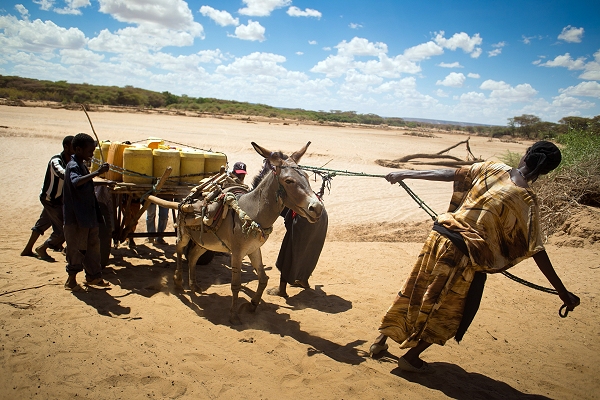 10 April 2017
(This story is the first of two on the drought in Kenya and people's struggle to survive. The video was distributed by the IFRC on Friday. Next is a report on a Red Cross resilience success-story centred on 'furrow irrigation' near the south-east coastal city of Malindi.)
Kenya Red Cross Society (KRCS) video including drone footage* has graphically illustrated the severity of the drought affecting the Ewaso Ngiro river basin, a lowland central region, where pastoralists are digging for water and fear they will have to start large-scale 'destocking' of cattle – distress sales – if the next rains are as poor as forecast.
With much of the river system dried up in Isiolo county for at least six months now, there is no option but to dig 'shallow wells' into the river bed by hand and scoop out the mud-coloured groundwater with domestic utensils, then lug it on donkey carts to villages.
In the merciless heat of the dry riverbed, it's exhausting work that leaves little energy for much else. But it's a task that Hawo Holale and Hawo Racho have to perform every two days, carrying their haul back to their village, Gafarsa, about four kilometres away in yellow 20-litre containers (photogallery).
This has to meet all their families' needs: drinking for animals and people alike, cooking, washing.
The only alternative – buying water at 30 Kenyan shillings (US cents) for 20 litres – is not an option. When the shallow wells dry up or get too deep to be usable, the menfolk spend a couple of days digging a new one.
'No mitigation'
"This isn't fresh water. That isn't this colour," says Hawo Racho. "Yes, but our parents brought us up on this water and we're even healthier than them!" Hawo Holale jokes. The pastoralist communities of the river basin are naturally resilient, but this 'coping strategy' cannot be kept up indefinitely.
The women share the river bed with scores of herdsmen who have trekked their cattle and camels in from the bush.
They squat in what shade there is – under armed guard, given the drought-induced rise in tension over water – while the livestock drink from troughs set up alongside the wells. 
Everyone agrees the next rains due about now are pivotal, but to some degree or other most are also aware that the current seasonal forecast from the Kenya Meteorological Department (KMD) is for "depressed" – i.e. significantly below normal – rainfall in most parts of the country.
Downstream a short distance – at a dry-season river crossing the Red Cross uses to access the area – Chief Ali Galgalo of the Belgesh sub-location near Gafarsa says "if there is no rain in the next few weeks the situation will be very critical"; there will be "no mitigation", as he puts it.
Appeal
In the worst scenario, the chief says the 1,800 people in his locality, all pastoralists, will have to start distress sales of their estimated 50,000 animals – selling them for slaughter before they weaken further and become totally worthless.
Asked what she expects if the KMD forecast proves accurate, Elizabeth Oruoch, Regional Logistics Officer at the KRCS Isiolo branch, says: "I believe this would affect the animals. This would even lead to death of the animals. Eventually this would prompt communities to start destocking…
"Our volunteers are stationed along the river monitoring the situation as it is, reporting back, so in case of any new happenings around the river then the Red Cross is in a position to know what is actually going on. Red Cross has been able to start the registration of families for CTP intervention – the cash transfer programme – and destocking."
The KRCS last week warned the number of people in need of food assistance in the drought has reached 3 million nationwide; the government says the figure could climb to 4 million soon.
The National Society and the IFRC also announced they have increased their appeal to $US25 from US$9m and are now seeking to assist just over a million people.
'Emergency'
"The situation is getting worse every day," said Dr Abbas Gullet, KRCS Secretary General and IFRC vice-president.
"Malnutrition rates among children are steadily climbing. Children are getting sick, and livelihoods of families have been decimated following the loss of thousands of their livestock.
"It is more and more difficult for people to access water – people are having to travel for up to three times as long just to get water for their family. This is an emergency that will not improve without help."
The expanded KRCS-IFRC operation focuses on cash transfers, health and nutrition, livelihoods, water, sanitation and hygiene, and food security.
So far the Red Cross in Kenya has provided more than 13,000 families in the hardest-hit areas with cash transfers, nearly 20,000 people have benefited from Red Cross supported destocking, and some 66,000 people have had emergency food aid.
A conference of climate scientists from several international agencies in Nairobi last month, meanwhile, saw the release of a detailed study of the Kenyan drought whose main message was: prepare for more. The study found a significant 'climate signal' – a measure of the influence of human-induced climate change – in the atmospheric temperatures behind the drought.
The dried-up Ewaso Ngiro river bed, where people struggle to wring water from the baking, dusty surface, seems to a good place to test that finding. 
*Note to editors: The DJI Phantom 4 camera drone used by the Red Cross to document the drought was supplied by the Climate Centre as part of its forecast-based financing programme for large-scale climate-related disasters in Africa, supported by the German Red Cross and foreign ministry. It was first flown in Uganda last year.
Every two days Hawo Holale and Hawo Racho return to the dried up bed of the Ewaso Ngiro rover to fetch water from a shallow well. It has to meet all their families' needs: drinking for both animals and people, cooking, washing. In the picture they start the arduous task of carting their day's haul back to their village of Gafarsa about four kilometres away. (Photo: Denis Onyodi/KRCS-Climate Centre)