Planning climate action in the Philippines the local way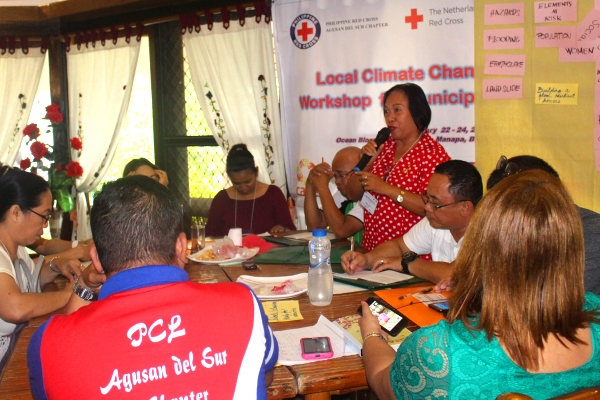 24 March 2017
In the Philippines, local government is legally required to produce plans for climate action, known as 'LCCAPs', for administrative areas; adaptation and mitigation are both considered. 
These local plans are intended to inform two major official documents: the Comprehensive Development Plan and the Comprehensive Land Use Plan.
Having an LCCAP is also one of the prerequisites for local government units to access funding from the Climate Change Commission. 
The LCCAPs and other local plans exemplify how national-level policies mandate the mainstreaming of climate-smart policies locally. 
Various approaches have been developed by several groups including data-based processes that can look intimidating, but recent experience indicates they need not be if approached right.
The Proud of My Purok* programme is the product of an alliance of the Netherlands Red Cross, CARE Nederland and Wetlands International, implemented through Philippine Red Cross (PRC), ACCORD, and the Xavier Science Foundation, with technical inputs from the Climate Centre, all supporting resilience in the Agusan delta in Mindanao.
Integrated risk management is at its core, combining adaptation, risk reduction and ecosystem management and restoration. 
Knowledge
Support was offered to local government units to develop LCCAPs in two Proud of My Purok sites: Esperanza in Agusan del Sur and Monkayo in Compostella Valley. 
Partnering with the Climate Centre and Aksyon Klima – the Philippine climate change network – the first part of this proposal was realised earlier this month through LCCAP workshops with each local government unit.
Drawing upon the expertise of partners and guided by a review of existing LCCAP approaches, an innovative methodology was trialled. 
It incorporated an integrated approach to ensure plans include climate information, landscapes and ecosystems, as well as interactive approaches to make technical components more easily accessible to local government.  
Over the three-day workshops local officials developed knowledge of climate change and its impacts, emphasizing the relevance of an LCCAP.  
Participatory methods, interactive exercises, quizzes, games, presentations and discussions enabled participants to identify hazards, risks, sensitivities, capacities and vulnerabilities. 
'Alarming rate'
The Philippines Atmospheric Geophysical and Astronomical Services Administration (PAGASA) grounded the discussions in science, providing data on local projections.  
"We have observed that climate change is real and happening at an alarming rate and local governments have a responsibility to tackle the immediate risks," said Leonida Manpatilan, mayor of Esperanza municipality, Agusan del Sur province, who took part in the sessions.
"I believe that our coordinated efforts will protect and improve our way of life for quality of life of our people."
The sustainability and scalability of the method are also being explored after keen interest from the PRC.
"Strategy 2017–22 underscores the direction of the organization to support local government in developing or improving plans related to disaster risk reduction or climate change adaptation that are evidence-based and risk-informed," said Resty Lou Talamayan, PRC Disaster Management Services.
"The LCCAP workshops are welcome because they will enable the PRC to learn and develop guidelines that will cascade through chapters [branches] to support local government units."
By the end of the workshops, participants said they were better able to triangulate technical understanding, local knowledge and science to propose actions to address climate impacts. 
The next phase will be to transcribe workshop outputs into coherent LCCAP narratives and help ensure climate action becomes reality.
At three-day workshops in the Philippines, local officials developed their knowledge of climate change and its impacts, emphasized the relevance of local planning. Participatory methods, interactive exercises, quizzes, games, presentations and discussions enabled participants to identify hazards, risks, sensitivities, capacities and vulnerabilities. (Photo: Brigitte Rudram/Climate Centre) 
*A purok – a subdivision of a barangay – is the smallest unit of governance in the Philippines.