Community-level activities help Ugandans face drought locally (new Red Cross drone video)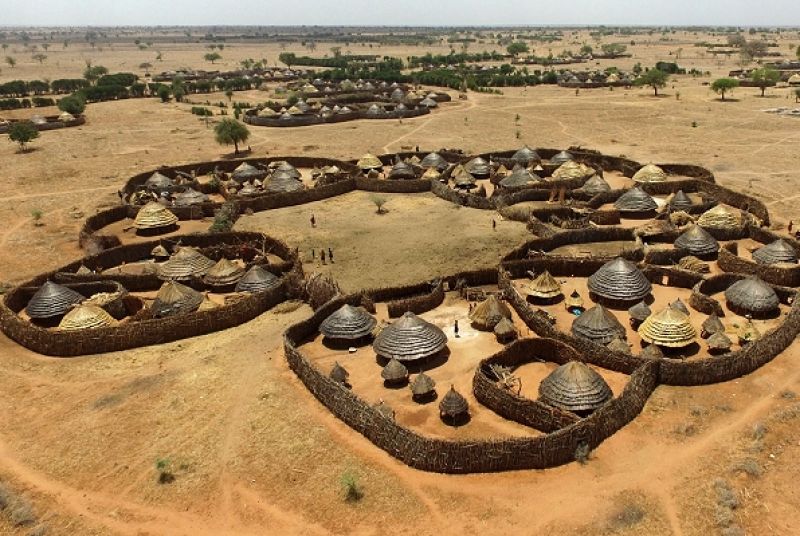 28 February 2017
A new drone shoot by the Uganda Red Cross Society (URCS) has illustrated the climate-related challenge facing the drought-affected north, as well as the hopeful legacy of community-based actions to increase resilience developed from 2011 to 2015 as part of the Netherlands-supported Partners for Resilience (PfR) alliance and national organizations including the URCS.
Some Ugandan communities have begun to plough fields in anticipation of rains due next month. But news reports say water and pasture in the north are, meanwhile, under pressure from both internal migration by pastoralists and cross-border arrivals from South Sudan and Kenya – together totalling several thousand people and tens of thousands of animals.
The United Nations last Monday said drought in the Horn of Africa "is generating a humanitarian crisis of alarming proportions". In its latest sitrep, the UN World Food Programme says pasture and water resources are "critically low" across the region, resulting in significant livestock deaths and crop losses in Ethiopia, Somalia and northern and coastal Kenya.
Pastoralists are trekking further afield with their animals and "distress migration" is reported between or within Ethiopia, Kenya, Somalia, South Sudan and Uganda, where grain prices are rising.
Oranges, honey, pineapples
Camera operator Denis Onyodi and producer Steven Rusoke spent several days filming in the Ugandan districts of Amuria, Katakwi, Kotido, Otuke, Soroti, where they also saw that community-based resilience work can be effective in the face of drought, including climate-smart agriculture, bee-keeping, fishing and mini-dams.
In Soroti district's Kamuda sub-county, Red Cross PfR beneficiary, Betty Among, 55, an orange-grower, told them: "If a drought comes I start preparing for planting my seeds. It helps me a lot on the side of money. You don't use too much money, and it helps also on the side of nutrition."
"CARE helped us identify drought-resistant crops that can survive these harsh conditions," said 'adopter-farmer' (instructor), Patrick Okello, interviewed by the team in his pineapple plot in Otuke district.
"The weather has not been friendly, but we're sure of earning something [with pineapples], winning bread at the end of the day – much as the general harvest is not good."
In the same district, bee-keeper and PfR beneficiary, Teddy Akello, said her "fear is that with this dry spell, the rain might resume late and it will affect farming. So I'm banking on the hives in case the bad weather continues.
"It's honey we harvest and take to the market to sell and get money for our needs."
Sustainable wetlands again?
Under the first stage of PfR – now in a second five-year phase focusing on lobbying and advocacy – the programme also supported awareness-raising of climate-related hazards designed to help communities to resolve tensions caused by competition for resources.
A total of 30 adopter-farmers were shown new techniques and each was assigned to hand them on to a further 50; savings and loan associations were supported in nearly 100 separate communities.
PfR partners and communities helped develop regulations on the demarcation and sustainable use of wetlands, and assisted communities with climate information and links to local government, the Ugandan meteorological service and other specialist research agencies.
The Ugandan government has not to date declared an emergency in the current drought, but Minister of Agriculture Vincent Ssempijja has told parliament the number of Ugandans in need of food aid had risen to 1.5 million from the 1.3 million people registered in November.
The DJI Phantom 4 camera drone used by the URCS was supplied by the Climate Centre as part of the forecast-based financing programme for large-scale climate-related disasters in Africa, supported by the German Red Cross and foreign ministry.
A virtually empty manyatta, or settlement, in Lokomebu sub-county, Kotido district, which pastoralists have temporarily quit because of lack of water. (Video still: Denis Onyodi/URCS)