IFRC: Mongolian herders need aid to weather second big freeze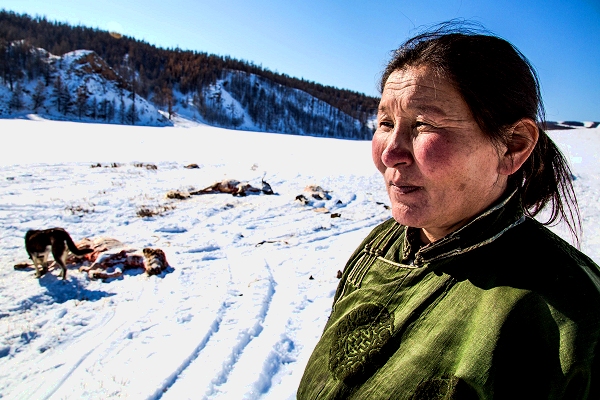 16 February 2017
(This story appeared first earlier today on the website of the Thomson Reuters Foundation. The IFRC press release on its new appeal for the Mongolian dzud was also issued today.)
Tens of thousands of nomadic herders in Mongolia face hunger and the loss of their livelihoods, the Red Cross warned on Thursday, as temperatures plummet and heavy snow blankets much of the country for a second straight winter.
In December, the Mongolian government asked international agencies to provide aid to the most vulnerable herder households who are suffering extreme winter conditions known as a 'dzud'.
The dzud is peculiar to the landlocked Asian nation and has become more frequent in recent years.
It occurs when a summer drought is followed by a harsh winter, causing widespread deaths among the livestock which herding families rely on for food, transport and income.
Snow storms
More than 157,000 people across 17 of 21 provinces are affected by this year's dzud, said Nordov Bolormaa, Secretary General of the Mongolian Red Cross. More than 70 per cent of the country is currently covered in snow, according to the government.
"Now it's very cold – temperatures are reaching minus 40 degrees Celsius [-40°F] in the northern provinces," said Bolormaa, adding that snow storms started a month early last year, at the end of October.
The [IFRC] launched an international appeal on Thursday for US$654,000 to help 11,300 people with cash, health services and other support.
Around 30 per cent of Mongolia's 3 million population lives off animal herding, according to the World Bank, and meat is the primary source of food.
Mongolian government figures show more than 42,000 animals had died by early February. The Red Cross warns that number will soar as severe weather is expected to continue through March.
As many as 1.1 million livestock died last winter, and the dzud of 2009–2010, one of the most severe in history, saw 9.7 million livestock deaths.
'Year of the monkey'
Mongolia is already struggling with an economic crisis as a weak local currency has made household goods more expensive.
Bolormaa remembers growing up with a traditional Mongolian saying – that when the year of the monkey comes around once in each 12-year lunar calendar, it invites disasters like the dzud.
But in the last 27 years, Mongolia has experienced seven dzuds, she said. "This traditional understanding and preparedness is changing," she added. Now the dzud has hit Mongolia two years in a row.
While some environmental groups point the finger at climate change, Maarten van Aalst, director of the Netherlands-based Red Cross Red Crescent Climate Centre, said it was hard to make the link with certainty because the dzud is a complex phenomenon.
"What we do know, generally, is that extremes are increasing and the predictability of what we can expect as a normal climate in a particular place is gone now," he said by telephone.
Other factors such as denser population and herding patterns could be compounding the effects of the dzud, he noted.
Livestock insurance
Its growing frequency has resulted in mass migration of out-of-work herders to Mongolia's capital Ulaanbaatar, putting a strain on the city over the last decade.
Migrants end up living in 'ger districts' – makeshift neighbourhoods named after traditional yurt dwellings, where they burn coal, tyres and household waste to keep warm, creating massive pollution problems.
To help protect herders from climate-related losses to their livestock, the World Bank in Mongolia launched the world's first index-based livestock insurance scheme in 2005.
Since adopted by the Mongolian government, it is based on an index of livestock mortality rates by species and district, and offered through local insurance companies and banks.
But take-up has been slow. In 2016, close to 19,000 herding households were insured, or around 12 per cent of the total, according to Ulziibold Yadamsuren, former director of the programme at the World Bank.
The cost of insurance is high for poor herders, and they cannot meet some of the criteria such as a requirement for all livestock to be vaccinated, said the Red Cross's Bolormaa.
"The implementation of the insurance is yet to be understood by the herders," she said.
Uranchimeg Terbish, 48, a herder, in front of her dead cattle in Khuvsgul province, northern Mongolia, this week. She has lost 22 cattle and some 30 sheeps and goats in the latest dzud "and I'm afraid I will lose more," she says. "This area is very vulnerable and easily affected by the harsh winter and cold weather. Almost every herder here is affected by dzud." (Photo: Mirva Helenius/IFRC)