Red Cross shares in global innovation award at World Government Summit in UAE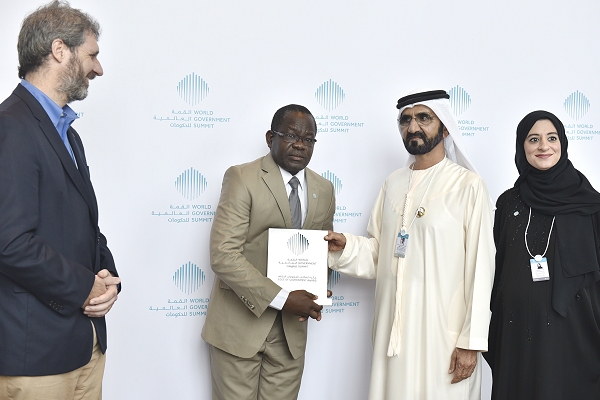 15 February 2017
The Togolese and German Red Cross, the Climate Centre and other partners yesterday shared in the 'Edge of Government Award' made to Togo's Ministry of the Environment at the World Government Summit in Dubai for joint groundbreaking work on forecast-based financing (FbF). 
FbF in Togo was among 13 innovative programmes that made it through to the final stage of the Edge of Government exhibition, attended by hundreds of visitors and designed to challenge people "to think in new and often counter-intuitive ways about how to solve the most pressing public challenges of our time," said organizers at the Mohammed Bin Rashid Centre for Government Innovation.
The competition – inaugurated at last year's World Government Summit to be an annual event – identifies "outstanding examples of government innovation from across the globe that have so far flown 'under the radar' and point to emerging new trends."
Danger levels
The finalists – evaluated for their projects' novelty, impact and replicability – were shortlisted from a global field and were this year mainly first-world governments; Togo was the only entry from Africa and there were also exhibits from Peru, another Red Cross FbF pilot country, and Brazil.
FbF in Togo includes a flood-prediction tool which 'learns' by integrating hydrometeorological and humanitarian data, competition organizers explained in a detailed publication on the exhibits.
Danger levels were anticipated and flood preparedness measures, supported by the environment ministry's National Platform for Disaster Risk Reduction, included "early [Nangbeto] dam releases which not only reduced flood impact but also gave the Togo Red Cross time to prepare vulnerable communities before the flooding began".
UAE Prime Minister Mohammed bin Rashid Al Maktoum presented the award on the final day of the summit to Nelson Akibode of the Togolese platform and Dr Pablo Suarez, Climate Centre Associate Director for Research and Innovation (photo).
'Climate science'
"There are too many people on this planet who suffer and die for entirely predictable reasons such as floods," said Dr Suarez in a TV interview.
"Unfortunately government systems, especially in developing countries, are not set up to link climate science with policy and with practice.
"We're extremely happy that through the initiative of forecast-based financing, information enables early action triggered by early warning, with money that is allocated to save lives, prevent loss and preserve human dignity." 
Forecast-based financing in Togo is supported by Germany's Federal Ministry for Economic Cooperation and Development and the German Red Cross, who were among partners cited in the award, along with the Electricity Community of Benin (jointly owned by the governments of Benin and Togo), the Global Facility for Disaster Redustion and Recovery, and the Code for Resilience programme. 
With IFRC backing and funding from the German Federal Foreign Office, the German Red Cross and the World Food Programme are testing the FbF approach in other high-risk countries including Bangladesh, Haiti, the Dominican Republic, Mozambique, Nepal, the Philippines and Peru.
'Weather-sensitive'
In a separate event taking place in the UAE this week, the World Meteorological Organization (WMO) Regional Association for Asia is holding its four-yearly meeting in Abu Dhabi amid what it says are warnings the region needs to do more to prepare for "extreme weather, climate change and water shocks".
The WMO's outgoing regional president, Abdulla Mohammed Al Mannai of Qatar, said the 2015 Nepal earthquake in Nepal and devastating floods in China, Thailand and the Indian city of Chennai together constitute a "wake-up call" to risk-prone countries throughout Asia to build resilience.
Improved early-warning systems could save billions of US dollars in reduced losses, he added, particularly for weather-sensitive sectors such as agriculture.
The WMO regional agenda includes ways to "improve early warnings and forecasting of high-impact weather events and environmental hazards like sand and dust storms, and to improve resilience to climate change".
It will also discuss how to spread satellite technology to less advanced countries.
Nelson Akibode of the Togolese National Platform for Disaster Risk Reduction and Dr Pablo Suarez, Climate Centre Associate Director for Research and Innovation, received the 'Edge of Government Award' from UAE Prime Minister Mohammed bin Rashid Al Maktoum yesterday, the last day of the World Government Summit. (Photo: Helle Carstensen)