UK to promote 'climate-smart approach' across economic development work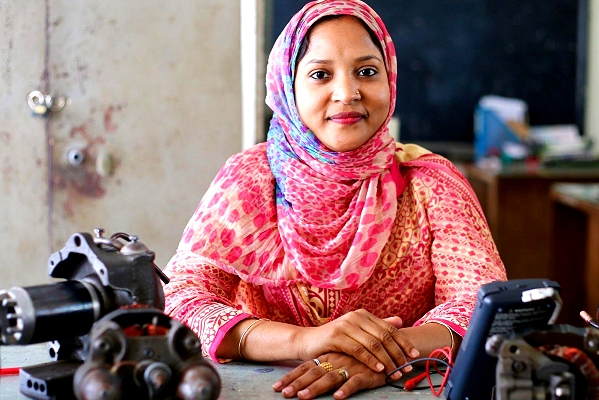 1 February 2017
The UK government's Department for International Development (DFID) yesterday published a new strategy to focus on economic development in the world's poorest countries to "sustain rapidly growing populations, provide a long-term solution to poverty and deal with the root causes of problems that affect Britain".
Over the next decade, a billion more young people will enter the job market, a DFID press release announcing the strategy says, mainly in Asia and Sub-Saharan Africa, with Africa's population set to double by 2050.
"This demographic challenge will add to the pressure of protracted crises and mass migration," it added.
The new Economic Development Strategy says investment will help developing nations "speed up their rate of economic growth, trade more and industrialize faster, and ultimately lift themselves out of poverty," according to DFID.
'We will help countries, communities and individuals,
especially girls and women, manage risk and
build resilience to the impacts of climate change'
"There is no task more urgent than defeating poverty," said the Secretary of State for International Development, Priti Patel. "The UK has a proud record of supporting people in desperate humanitarian crises, but emergency help alone won't tackle the global changes we face.
"With dramatic increases in population across Africa and Asia, developing nations must act fast to create jobs and investment", she added, and Britain was leading "a more open, more modern approach to development".
The DFID press release says the new strategy, among its other goals, is designed to create economic opportunities in fragile and conflict states, make it easier for companies to invest in the markets of the future, help the City of London become the leading financial centre for the developing world, and make a case in the World Trade Organization for "better and fairer" rules.
In a section entitled Sustainability and strengthening resilience, the DFID strategy paper says climate change is "one of the foremost challenges facing humanity and is the biggest global threat to sustained economic development."
Making economies and people more resilient would save lives and reduce the costs of disasters that DFID puts at an estimated US$2 trillion in total from 1992 to 2012.
'Future proof'
The department says development capital can build countries' resilience to climate change through insurance innovations like African Risk Capacity, and it will "promote a 'climate-smart' approach" across its economic development work.
"We will help countries, communities and individuals, especially girls and women, to manage risk and build resilience to the impacts of climate change," DFID says.  
DFID says it's also stepping up work on cities to maximize the development potential of urban areas and will integrate "climate and environmental considerations to help 'future proof' investments, so countries and cities can grow sustainably."
A box article on agriculture in the strategy sets out DFID's plans to support the development of new crop varieties, including rice that tolerates floods and maize that resists drought.
"For every £1 invested in these technologies, more than £6 is returned in economic benefits," DFID believes.
The Climate Centre is part of the DFID-supported multi-agency programme, Building Resilience and Adapting to Climate Extremes and Disasters, that is helping people become more resilient to climate extremes in 13 countries in the Sahel, East Africa and Asia.
Shirina Akter, a Bangladeshi teacher, with refrigeration machinery she uses with her class at a school in the capital, Dhaka. Her photo appears on the cover of the new strategy for economic development published yesterday by the UK government. (Photo: Marisol Grandon/DFID)