Two more countries report modern-era temperature records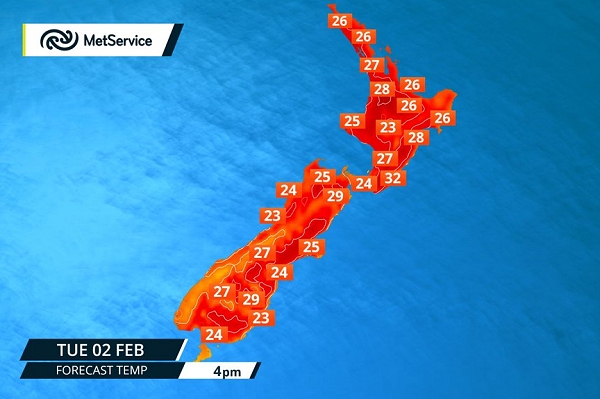 30 January 2017
Two more countries – in the southern hemisphere on opposite sides of the Pacific rim – have reported modern-era temperature records.
The Chilean Meteorological Office says a 100-year-old record of 37.2°C that fell last month was again broken on Wednesday with a reading of 37.4°C at the Quinta Normal weather station in the Santiago metropolitan region.
"A slight positive trend is seen in annual absolute maximums," Chilean meteorologists said in a Facebook post that was also tweeted by the World Meteorological Organization, "especially in the last 20 years when maximum temperatures have been higher than 36°C."
Chile's record summer heat was confirmed as it continued to battle huge forest fires in the centre of the country that have now reportedly killed 11 people and triggered a state of emergency south of Santiago. 
"The blazes spread quickly in the dry and particularly hot summer that many South American countries are experiencing," the BBC reported.
Technical specialists at the Chilean Red Cross, whose volunteers are assisting people affected, have issued guidance to staff, volunteers and residents on what to do to prevent and fight forest fires.
'Remarkably warm'
Scientists in New Zealand, meanwhile, have reported that last year was the warmest since their current data series began in 1909.
The annual climate summary from the National Institute of Water and Atmospheric Research (NIWA) said 2016 temperatures were up to 1.2°C above the annual average "throughout the country, with very few locations observing near average temperatures".
NIWA – New Zealand's leading supplier of atmospheric, freshwater, environmental and marine science services – measured the 2016 temperature against a 1981–2010 baseline average.
"The first seven months of the year from January to July were remarkably warm," the summary says, "with the nationwide average temperature higher than average for each month."
It adds that "El Niño Southern Oscillation (ENSO)-positive conditions" were present at the beginning of the year but the strong El Niño weakened rapidly from February and ENSO-neutral conditions prevailed by May.
A TV weather chart from the New Zealand Met Service warns of high temperatures last February, early in a series of "remarkably warm" months that generated a record year overall. (Image: New Zealand MetService via Twitter)