2016 sets new global temperature record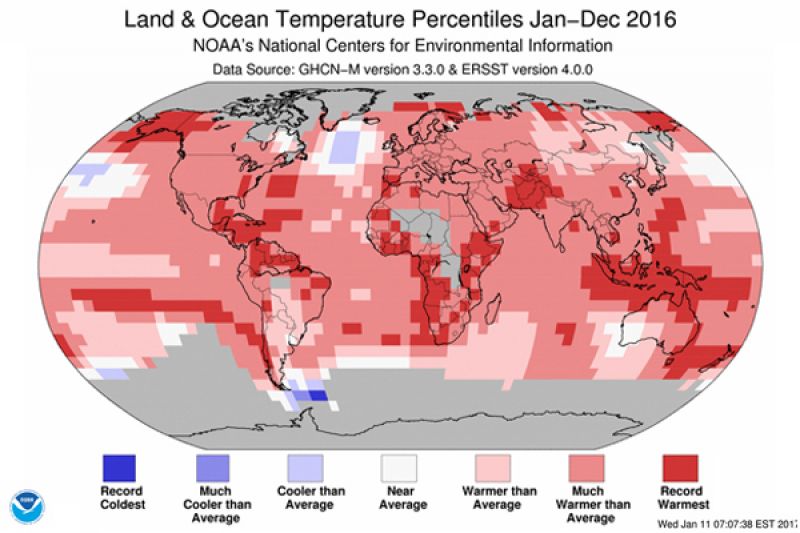 19 January 2017
Using data compiled by US and British agencies, the World Meteorological Organization (WMO) yesterday confirmed 2016 was the hottest year since modern record-keeping began in the late 19th century, passing even the exceptionally high temperatures of 2015.
The average temperature worldwide last year was 1.1°C higher than the pre-industrial period, according to a press release from the Geneva-based agency – the UN system's voice on climate, weather and water issues, and an IFRC partner.
The global temperature was just over 0.8°C above the 14°C average for a 1961–90 reference period, and 0.07°C warmer than the 2015 record.
Hottest years
"But temperatures only tell part of the story," said WMO Secretary-General Petteri Taalas.
"Long-term indicators of human-caused climate change reached new heights in 2016," he added.
"Carbon dioxide and methane concentrations surged to new records. Both contribute to climate change. We have also broken sea-ice minimum records in the Arctic and Antarctic."
The melting Greenland glacier, which contributes to rising sea levels, "started early and fast", the WMO chief said.
"The Arctic is warming twice as fast as the global average [and] persistent loss of sea ice is driving weather, climate and ocean circulation patterns in other parts of the world."
'Off the chart'
A powerful El Niño pushed up temperatures in early 2016, but after the Pacific warming event ended they stayed well above average.
All the 16 hottest years on record have been this century, apart from 1998 when there was also a strong El Niño.
WMO uses data from the US National Oceanic and Atmospheric Administration, NASA's Manhattan-based Goddard Institute for Space Studies, the UK Met Office Hadley Centre, and the University of East Anglia's Climatic Research Unit.
"What's going on in the Arctic is really very impressive – this year was ridiculously off the chart," GISS head Gavin Schmidt told the New York Times.
A report in the paper on the 2016 record said with El Niño over, climate scientists "almost universally expect 2017 to be cooler than the year before.
"But the scale of the heat burst has been startling to many of the experts, and some of them fear an accelerated era of global warming could be at hand over the next few years."
Preparedness
In December the Japan Meteorological Agency also released preliminary findings that showed 2016 was likely to be a record.
The WMO's full statement on the global climate in 2016 is due out in March and will include details of regional and national temperatures, extreme events, rising sea levels and tropical cyclones.
On Tuesday IFRC Secretary General Elhadj As Sy called on governments to step up preparedness in the face of predictable droughts, storms, floods and other disasters, including through new approaches such as forecast-based financing.
"We see much more money being spent in responding to disasters and very little in preventing them," Mr Sy told the Thomson Reuters Foundation in an interview
(Graphic: NOAA)