Attribution scientists: Europe's lethal Siberian weather uncommon but not unprecedented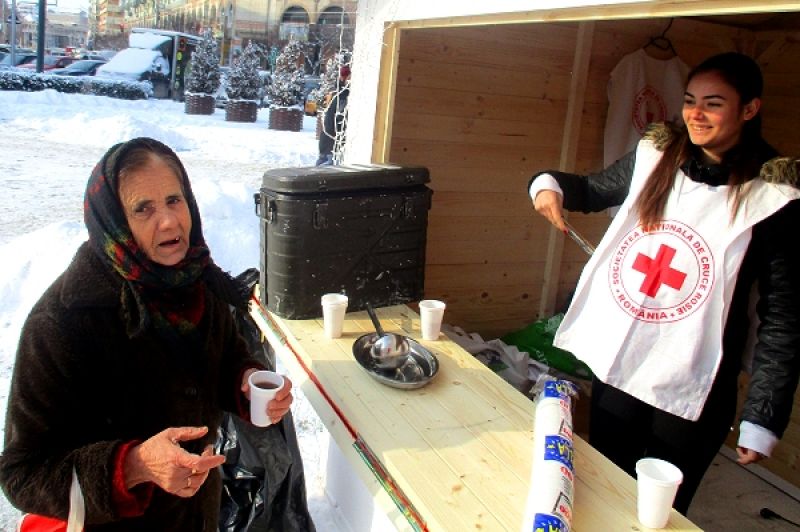 16 January 2017
Europe's severe cold wave, which last week led the IFRC to urge people across the continent to protect themselves against unfamiliar freezing temperatures, was uncommon but not unprecedented, Netherlands-based scientists say.
Researchers at the Royal Netherlands Meteorological Institute (KNMI) have conducted a 'rapid analysis' of the January 7–11 cold wave to compare it with others in the region, and they found such events occurred, on average, about every 35 years.
But without climate change the cold wave "would have been a few degrees colder still", according to their full analysis.
KNMI is a member of the World Weather Attribution project, coordinated by the US-based Climate Central group, whose summary of the Dutch analysis is now online; the Climate Centre is another.
Siberian air
Russian news reports last week said Moscow had experienced its coldest Orthodox Christmas in 120 years on 7 January, while the River Danube and the Bosporus strait were closed for shipping.
The media had reported at least 40 deaths in several countries at the middle of the week, and the IFRC said homeless people sleeping outdoors, asylum seekers and refugees in camps, and displaced people in Ukraine were among the most vulnerable.
A high-pressure weather system that crawled across Europe drew icy Siberian air to the south-east of the continent, the World Meteorological Organization (WMO) said Friday.
Bulgaria, Macedonia, Montenegro and Serbia were "much colder than normal", the WMO added, with temperatures as low as minus 15ºC for five days running.
Greece, Italy, Romania and Turkey were up to 10ºC colder than normal; freezing temperatures triggered heavy snow in many places.
'Emergency supplies'
Red Cross teams from National Societies across Europe were out in the worst-hit areas to provide warm clothes, hot drinks and food, blankets and first aid.
"Our volunteers are on the ground from Turkey to northern Europe where the severe winter weather is putting vulnerable people at serious risk," said Simon Missiri, IFRC Regional Director, at the beginning of the cold wave.
"We're urging people to stay indoors where possible and to make sure they are equipped with emergency supplies like food, water and flashlights, and stay tuned to weather forecasts."
Romania (pictured) was one of many European countries where Red Cross volunteers were out in force last week to help vulnerable people through the severe cold wave. The Romanian Red Cross reported extreme weather and snow storms in more than half the country, and its volunteers distributed food parcels and hot tea and soup in the worst affected areas. (Photo: Romanian Red Cross via IFRC)