Get ready for extreme weather over next decade: pre-Davos global risks report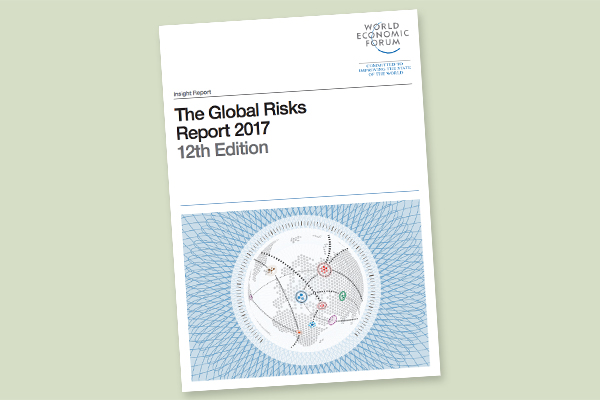 13 January 2017
Extreme-weather events are now the top global risk in terms of 'likelihood' over the next ten years, according to the Global Risks Report 2017 from the Geneva-based World Economic Forum (WEF) released yesterday.
After weapons of mass destruction, extreme weather comes in second out of ten for 'impact' – the other factor the WEF uses to rank global hazards – while 'major natural disasters' are ranked third and fourth respectively.
For the first time all five environmental risks are above average for impact: extreme weather, failure of climate mitigation and adaption, loss of biodiversity and ecosystem collapse, and natural and man-made disasters.
The Global Risks Report is issued annually ahead of the WEF meeting in the Swiss resort of Davos-Klosters, which starts Tuesday.
"Over the course of the past decade, a cluster of environment-related risks – notably extreme weather events and failure of climate change mitigation and adaptation as well as water crises – has emerged as a consistently central feature…strongly interconnected with many other risks, such as conflict and migration," the report's executive summary says. 
'The confluence of risks around water scarcity, climate, extreme weather and involuntary migration remains a potent cocktail 
and risk multiplier'
Climate change overall was one of three 'key findings' highlighted by the WEF.
"Rising income and wealth disparity and increasing polarization of societies", meanwhile, ranked first and third respectively among underlying trends influencing global developments in the next ten years.
And of 12 emerging technologies examined, experts found artificial intelligence and robotics had "the greatest potential benefits, but also the greatest potential negative effects…"
'Incentives'
"Urgent action is needed among leaders to identify ways to overcome political or ideological differences and work together to solve critical challenges," said Margareta Drzeniek-Hanouz, WEF Head of Global Competitiveness and Risks.
"The momentum of 2016 towards addressing climate change shows this is possible."
Professor Howard Kunreuther of the University of Pennsylvania's Wharton School, and an academic adviser on the report, said: "The importance of long-term adaptation strategies for addressing the risks associated with sea-level rise and coastal flooding cannot be overemphasized.
"However, unless we provide short-term incentives for investing in these measures, they are likely to be given low weight on the policy agenda of communities and countries."
'Critical juncture'
Climate Centre Director Maarten van Aalst said this year's report "couldn't have come at a more critical juncture for climate action.
"We also flagged last week that there's now increased attention to the interaction between climate, migration and conflict," he said.
"The message to the humanitarian community from the report, as well as next week's Davos meeting, is that we need to increase our focus on managing rising climate risks, including – perhaps now especially – in fragile contexts."
In one of its strongest statements on climate, the Global Risks Report's section on the environment says the "confluence of risks around water scarcity, climate change, extreme weather events and involuntary migration remains a potent cocktail and a 'risk multiplier', especially in the world economy's more fragile environmental and political contexts."
In the current survey some 750 experts assessed 30 global risks and 13 underlying trends that could amplify them or alter the connections between them.
Image: Global Risks Report 2017 cover. (Source: WEF)