Humanitarians ask: Will global action on climate accelerate in 2017?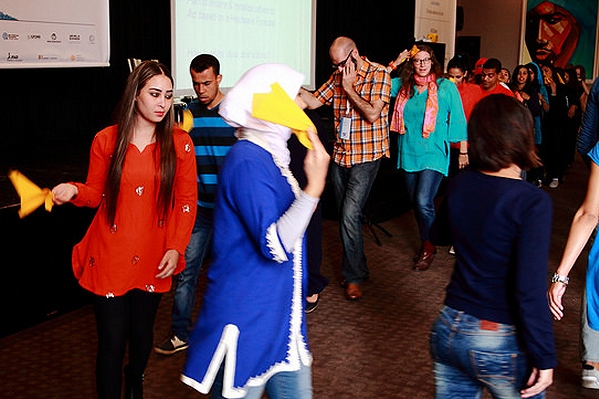 3 January 2017
IT SHOULD BE an uncontroversial statement of fact that individuals and organizations with a stake in the humanitarian impacts of climate change are waiting with interest to see how the policy of the new Trump administration will unfold.
Our minds are open, as they should be.
As the year turned, with the world holding its breath for the fragile ceasefire in Syria and new terrorist attacks in Germany and Turkey, in this sector we nevertheless allowed ourselves a brief period of optimism on global efforts to tackle rising climate risks.
For at least five important reasons, I believe international action on climate is moving forward, even gaining momentum.
Firstly and most obviously, the historic Paris agreement on the global climate was not only ratified quicker than hoped, it also crossed the '55-55' threshold in 2016 that meant the UN could announce it was coming into force much faster than anyone foresaw.
Secondly, the first round of high-level climate negotiations after Paris, COP 22 in Marrakech, which of course straddled the US election, ended without major setback.
Delegates in Morocco stuck to the Paris agreement's vision of a twin-track approach: ambitious action on mitigation to avoid catastrophic change alongside equally ambitious action on climate resilience – especially to help the most vulnerable communities address risks that will rise whatever we do in the short term.
                    There is increased attention to the interaction 
between climate, migration and conflict
Thirdly, and widening the discussion out to signs that all this really adds up to something in practice, I would argue that 2016 saw one of the first real examples of international action bridging humanitarian, development and climate work.
The UN special envoys on El Niño and climate, Mary Robinson of Ireland and Macharia Kamau of Kenya, characterized their task as extending beyond just raising the US$5 billion needed to cover struggling humanitarian appeals for responses to disasters related to El Niño.
Instead, they opted for a 'blueprint for action' on El Niño and climate – welcomed by the IFRC – that highlighted the need to invest on a much larger scale ahead of predictable crises, and embracing the UN Secretary General's 'A2R' initiative launched in Paris.
This should enable not just the international system but also individual countries affected by El Niño and other climate risks to act quickly on warnings of the next crisis.
I also see, fourthly, a much stronger emphasis on climate risk in development planning. The World Bank, for example, now integrates climate risk into all its investments.
Such integration is critical at the local level: in the Partners for Resilience alliance, which entered its second five-year phase last year, we see many country teams concentrating effort here.
Bumper crop
In Kenya, for example, PfR is helping local officials address changing climate risks, and the hope is that this will eventually hone the somewhat artificial adaptation process at national level.
Another example, by a consortium led by the Near East Foundation within the UK-supported BRACED programme, is work on 'devolved' climate finance; cities are also stepping up, as seen at the Habitat III conference in Quito.
At this local scale, adaptation becomes both tangible and practical.
And this brings us – perhaps most excitingly of all – to the practical examples in 2016 that showed how climate risks are increasingly being anticipated before they turn into disasters.
Several actions were triggered in the countries piloting forecast-based financing, for example; I particularly like this positively heartwarming story from Kitui County in Kenya, where the Red Cross helped farmers buy seed for a maize variety known to thrive in the wet conditions that were forecast during El Niño in an otherwise drought-prone region. The result? A bumper crop.
So as we enter the new year and what many political commentators are calling a new era, the overlaps between climate action and humanitarian concerns are bound to continue to grow.
We'll see more debate about achieving the right balance between mitigation and adaptation, including its humanitarian dimensions; while we in the humanitarian sector continue to argue for climate action to include a significant component on resilience and remain high on the agenda.
There is increased attention to the interaction between climate, migration and conflict, along with the search for better ways to manage rising climate risk in fragile contexts.
We know that many of the people most vulnerable to weather extremes live in conflict-affected areas or near them. An example from recent history is mortality in the 2011 drought in the Horn of Africa, concentrated in southern Somalia clearly not just because of the lack of rain but also because of its combined effect with conflict.
An up-to-date example, reported in media last year, came when a pernicious nexus between conflict, displacement and erratic weather hit food security in northern Cameroon.  
Geoengineering?
We are also expecting continued attention for early action ahead of climate shocks, with processes like the UN blueprint and the recently launched Start Fund addressing under-the-radar emergencies and supplementing similar initiatives by the Red Cross Red Crescent Movement and the UN.
These may provide some of the most effective channels for the developed world to respond to the increasing demand from the most vulnerable countries for help with rising loss and damage from climate change.
And in 2017 we're also looking even further ahead and building scientific foundations for climate decisions for many years to come. The Intergovernmental Panel on Climate Change, for example, is commencing work on its special report on 1.5 degrees as well as its next full assessment cycle, 'AR6'.
In April the Climate Centre is joining the IPCC in a workshop to prepare for the AR6 scoping process, looking at how best to frame the management of climate risk with a focus on the most vulnerable.
And over time, we're likely to witness growing attention to geoengineering, which seems all-but unavoidable to stay below 1.5 degrees, but which may have major side-effects affecting those worst-placed to express an opinion: the world's most vulnerable people.
So, in 2017, watch this space.
*Dr Maarten van Aalst is the director of the Red Cross Red Crescent Climate Centre. He holds a PhD in atmospheric science and contributed to the IPCC's special report on extremes and its fifth assessment report, known as 'AR5'.
Image: At the 2016 Development & Climate Days event in Marrakech, Moroccan Red Crescent volunteers and facilitators from the US 'Applied Improvisation Network' form a flash mob illustrating heatwave precautions. For the first time in the history of D&C Days, the private sector was involved in the form of the 'We Mean Business' coalition of influential businesses and investors working for a transition to a low-carbon and resilient economy. (Photo: Alex Wynter/Climate Centre)