'Essential to bring other donors on board', Geneva platform on forecast-based financing told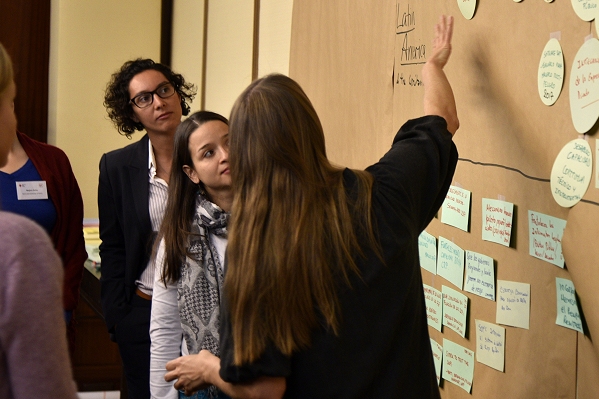 16 December 2016
(This story appeared first earlier today on the International Federation's news site.)
The German government – a major backer of forecast-based financing (FbF) pilots around the world – has called for more support for this innovative humanitarian programme. In collaboration with the German Red Cross and National Societies, the government has funded pilot projects in Bangladesh, Mozambique, Peru, Togo and Uganda.
Dr Thorsten Klose-Zuber, from the German Federal Foreign Office's humanitarian assistance unit, said: "The first phase was to find out in pilot countries if this methodology is working. There was a lot of evidence that we should continue into a second phase."
Speaking at the fourth FbF 'dialogue platform', hosted in Geneva by the IFRC, Dr Klose-Zuber said FbF needed strengthening during this phase.
"It's essential to bring other donors on board to enable humanitarian partners to act on forecasts, when funding might not have been available in the past," he said.
The twice-yearly dialogue platform gathers governments, meteorologists, climate scientists, humanitarians, and donors as part of a German action plan for humanitarian adaptation to climate change.
FbF is being piloted by the Red Cross Red Crescent with German support in Bangladesh, Mozambique and Peru (Federal Foreign Office), and in Togo and Uganda (Federal Ministry for Economic Cooperation and Development), with the Climate Centre providing technical advice.
'We are extremely excited about forecast-based financing'
Pascale Meige, the IFRC's Director for Disaster and Crisis Prevention, Response and Recovery, said: "The opportunities that forecast-based financing initiatives provide to convene and bring together stakeholders with different areas of expertise is something we've seen to be incredibly valuable and unique.
"By building on the years of experience of the international Red Cross Red Crescent Movement in early warning, early action, and promoting interaction between climate science, disaster management, funding sources, and at-risk communities, we've been able to promote a new way of funding that is proactive rather than reactive," she said.
Meige said she wanted to recognize the leadership of the Federal Foreign Office in promoting the forecast-based financing concept and thank the German Red Cross in leading the implementation of the overall action plan worldwide.   
"I am delighted to share the IFRC's own commitment to FbF – made within the context of the World Humanitarian Summit and the Grand Bargain – where we pledged to rapidly scale up our use of forecast-based financing by doubling existing coverage within the Movement by 2018," she said.
'Feedback loops' 
As part of German-supported FbF, the forecast-based financing methodology is also being piloted by the World Food Programme (WFP) in Bangladesh, the Dominican Republic, Haiti and Nepal, and together with its own Norwegian-supported 'FoodSECuRE' programmes in the Philippines, Guatemala, Niger, Sudan and Zimbabwe.
"Recent WFP research found that early humanitarian response could trigger positive feedback loops that reduce humanitarian costs as well as disaster impacts," WFP's Rome-based Programme Policy Officer for Climate and Disaster Risk Reduction, Baas Brimer, told delegates.
"The WFP study suggested early response could cut the net cost of crises in half when these factors were combined," he said.
IFRC Under Secretary General for Programmes and Operations, Garry Conille, who visited the platform on its last day and experienced a virtual reality representation of FbF in Togo, said: "We are extremely excited about forecast-based financing."
"Forecast-based financing helps put resources into early action when the early warning button is pressed," said Youcef Ait-Chellouche, IFRC Head of Delegation in Ethiopia and its Permanent Representative to the African Union.
At least ten national government ministries or weather services were also represented at the Geneva platform, and at least 15 National Societies as well as interested UN agencies, insurance companies and other stakeholders.
The fourth global dialogue platform on forecast-based financing took place in Geneva in December 2016. It heard strong endorsements of the new methodology from IFRC leaders, and a new call from the German government for other humanitarian donors to get involved. (Photo: Greta Aubke/German Red Cross)