Breaking the link between extreme weather and extreme poverty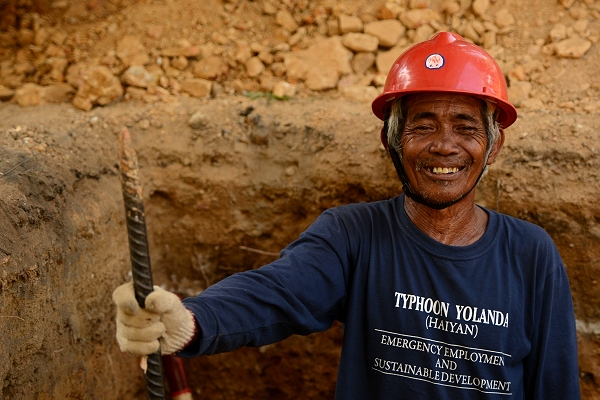 22 November 2016
(This feature story appeared first last week on the website of the World Bank. It has been edited here for length and time references. "Building resilience to disasters not only makes economic sense, it is a moral imperative," said World Bank Group President Jim Yong Kim.)
In 2013, an estimated one million Filipinos were plunged into poverty after Typhoon Haiyan sapped US$12.9 billion from the national economy and destroyed over a million homes.
No sooner had the 2010 Cyclone Aila devastated coastal areas of Bangladesh than unemployment and poverty levels surged 49 per cent and 22 per cent respectively.
Economic strains facing Guatemala after Hurricane Stan in 2005 forced 7.3 per cent of affected families to send children to work instead of school. 
Whenever disaster strikes, it leaves more than just a trail of devastation, it also leaves communities further in the grip of poverty.
And yet, when we hear of natural disasters today, their financial cost – that is, the damage inflicted on buildings, infrastructure, and agricultural production – is what catches the headlines.
Irreversible consequences
New research, however, suggests that reducing natural disasters to their monetary impact does not paint the whole picture. In fact, it distorts it.
That's because a simple price tag represents only the losses suffered by people wealthy enough to have something to lose in the first place. It fails to account for the crushing impact of disasters on the world's poor, who suffer much more in relative terms than wealthier people.
Through this lens, a new report released by the World Bank and the Global Facility for Disaster Reduction and Recovery (GFDRR) warns that natural disasters are a greater impediment to ending global poverty than previously understood.
Launched last week at COP 22, the report, Unbreakable: Building the Resilience of the Poor in the Face of Natural Disasters, underscores the urgency for climate-smart policies that better protect the world's most vulnerable.
Compared to their wealthier counterparts, poor people are more likely to live in fragile housing in disaster-prone areas, and work in sectors dangerously susceptible to extreme-weather events like farming and agriculture. They also receive much less government and community support for recovery.
The result: the impact of a storm, flood, drought or earthquake is more than twice as significant for poor people than anyone else.
For example, when unprecedented floods affected Mumbai in 2005, poor people lost 60 per cent more than their richer neighbours – and when poor people lose the little they have, there are immediate and sometimes irreversible consequences for their health.
In Ecuador, poor children exposed in utero to El Niño flooding in 1997–1998 were found to have relatively lower birthweights, shorter statures, and impaired cognitive abilities.
Hope
Proposing a new measure for assessing disaster-related damages – one that factors in the unequal burden on the poor – Unbreakable shows that natural disasters currently cost the global economy US$520 billion (60 per cent more than is usually reported) and force some 26 million people into poverty every year.
But there is hope. Governments can prevent millions of people from falling into extreme poverty by enacting measures that better protect the poor from natural disasters.
The report proposes a "resilience policy" package that would help poor people cope with the consequences of adverse weather and other extreme natural events.
This includes early warning systems, improved access to personal banking, insurance policies, and social protection systems (like cash transfers and public works programmes) that could help people better respond to and recover from shocks. 
Unbreakable also calls on governments to make critical investments in infrastructure, dykes, and other means of controlling water levels, and develop appropriate land-use policies and building regulations.
These efforts must be specifically targeted to protect the poorest and most vulnerable citizens, not just those with higher-value assets.
"Countries are enduring a growing number of unexpected shocks as a result of climate change," said Stephane Hallegatte, a GFDRR lead economist and lead author of the report.
"Poor people need social and financial protection from disasters that cannot be avoided. With risk policies in place that we know to be effective, we have the opportunity to prevent millions of people from falling into poverty."
In the Philippine province of Palawan, Modesto Sumaraga, 65, is among 3,500 carpenters trained by the Red Cross Red Crescent as part of its recovery effort after Typhoon Haiyan. He got a qualification in carpentry and now helps teach 'Build Back Better' principles to storm-prone island communities. A new World Bank report estimates that a million people in the Philippines were plunged into poverty after Haiyan, but policy packages that boost resilience offer hope after disasters. (Library photo: IFRC)