Red Cross Red Crescent calls on states to put vulnerable people 'front and centre' in planning on climate adaptation and finance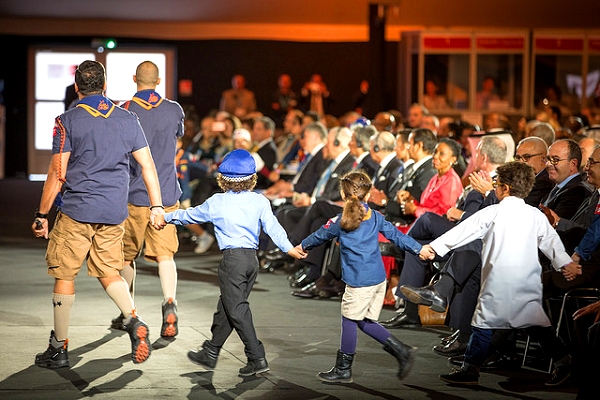 21 November 2016
(This story is a press release issued by the IFRC in Marrakech and Geneva on Friday. It has been edited here for time references only.)
At the end of the COP 22 UN climate talks, the IFRC Friday welcomed the commitment by governments to implement the Paris agreement, and said it also looked forward to seeing this translated into action for those most vulnerable to climate change. 
"Climate change is affecting everyone, but no one more than the most vulnerable," the IFRC said in a written statement for the 'high-level segment' at the talks in the Moroccan city of Marrakech. 
"While some countries are more exposed than others, in every country it is the poor and marginalized who are most exposed."
The IFRC statement said governments should put the vulnerable "front and centre" in national plans for adaptation and 'nationally determined contributions' to reducing emissions, while international finance for adaptation should promote resilience.
'We need to increase our ambition on all fronts
to deliver the promises of the Paris agreement'
A  Marrakech Action Proclamation was issued by the conference Thursday to "signal a shift towards a new era of implementation and action on climate and sustainable development".  
The document said the past year had seen extraordinary and irreversible momentum on climate worldwide, "driven not only by governments, but by science, business and global action of all types", and called for the highest political commitment to combat climate change.
The IFRC statement added that it was now encouraging investment in "climate-smart preparedness" at community and neighbourhood level and the breaking down of specialist silos between adaptation, risk reduction, and humanitarian action. 
"We need to increase our ambition on all fronts if we are to deliver the promises of the Paris agreement," said Dr Fatoumata Nafo-Traore, IFRC Regional Director for Africa and its senior official at the Marrakech talks.   
"The IFRC is ready to support ambitious action, by contributing to planning for adaptation and implementation and also by raising awareness about rising risks and highlighting the need for mitigation."
Red Cross and Red Crescent volunteers all over the world are in communities on "the front line of the climate adaptation challenge," said Dr Nafo-Traore, witnessing climate impacts including more frequent and intense disasters, accelerating health risks, loss of productive land, and others.
At the International Federation's principal side-event at COP 22 last week, she called for a scaling up of "innovative funding mechanisms" such as forecast-based financing to fill a gap between disaster preparedness and response.
The Moroccan rap trio Fnaire played in the opening of the 'high-level segment' at the COP 22 UN climate talks in Marrakech. An IFRC written statement for the meeting said governments should put the vulnerable "front and centre" in national plans for adaptation while international finance should go toward promoting resilience. (Photo: UNFCCC via Flickr)