IFRC Africa director: Fill gap between preparedness and response with 'innovative funding mechanisms' like forecast-based financing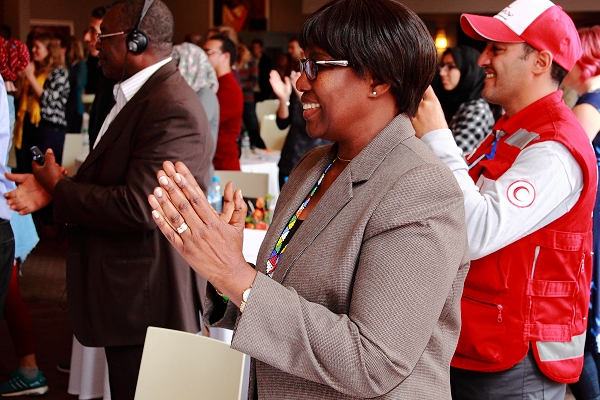 18 November 2016
The head of the IFRC's Africa region, Dr Fatoumata Nafo-Traore, told the International Federation's principal side-event at the COP 22 UN climate talks in Marrakech that "the severity of the impacts of climate change and variability would be with us for many, many years if we don't take action today".  
She recalled that 2015 has been confirmed as the hottest year on record, while the World Meteorological Organization says this year is on track to be even hotter.
In moving forward there was now, however, "great potential, but what is missing is dedicated resources to work on a forecast basis".
It was typically "only when disaster materializes that funding is made available"; money came for disaster preparedness and response "but in between we have a great gap, and this is where we need to fill it with innovative funding mechanisms".  
"Forecast-based financing is one of them."
Dr Nafo-Traore – a former health minister of Mali and most recently director of the Roll Back Malaria global platform – cited FbF pilots in countries like Bangladesh, Uganda and Peru as evidence that money spent on forecast-based action generated several times the humanitarian impact as resources allocated to crisis management.
Adaptive farming
A second important priority, within the NAP process, was "involving communities throughout…from planning to implementation". 
She cited the Armenian Red Cross, for example, which has brought government and civil society stakeholders together in a 'climate forum' with some of the country's most vulnerable communities as part of developing local adaptation.
The Kenyan Red Cross, through being heavily engaged in NAP and after a competitive bidding process, had received financing to help communities in northern Marsabit county through adaptive farming, solar-powered water systems, and better climate information.
Dr Nafo-Traore said she hoped funding would now be made available so these innovative but relatively small-scale interventions could be expanded.
The Marrakech side-event, jointly organized with the London-based International Institute for Environment and Development (IIED), was entitled Devolving climate finance: How to reach the most vulnerable.
It highlighted how devolved climate finance in Kenya, Tanzania, Mali and Senegal is supporting "equitable, local-level resilience-building," according to an introduction.
'Transformative'
Other panellists were Gebru Jember Endalew of Ethiopia, incoming chair of the LDC group on climate negotiations, and Dr Lucy Ssendi, a climate adviser in the Tanzania President's Office.
"We need to develop mechanisms" to ensure that climate finance goes to the poorest and most vulnerable, said Gebru Jember in keynote remarks opening the side-event; he said little climate finance was currently reaching the local level.
He argued that FbF could "anticipate risks and reduce the cost of humanitarian aid delivered after a climate event," adding that FbF and National Society NAP involvement were mechanisms that together had "transformative potential by placing communities first…and by changing the way in which humanitarian aid is delivered".
Dr Lucy Ssendi said her message was that "local-level financing is good for adaptation".
The model of decentralized adaptation funds was "highly transformative", she said, because it successfully combined "government expectations and community needs", leaving communities more empowered.
In closing remarks, Climate Centre Director Maarten van Aalst said some "real answers" had emerged, on one hand, about how community voices could have a real influence on how climate finance was deployed and, on the other, on examples of how that finance could be used more effectively.
The IFRC-IIED side-event was chaired by Pete Betts, Director of International Climate Change at the UK Department of Energy and Climate Change.
The head of the IFRC Africa regional office, Dr Fatoumata Nafo-Traore, joined Moroccan Red Crescent volunteers and other participants at the weekend Development and Climate Days event in Marrakech. She told the International Federation's principal side-event at COP 22 that "what is missing is dedicated resources to work on a forecast basis". (Photo: Climate Centre)