At COP 22, IFRC pledges support for UN 'blueprint for action' on El Niño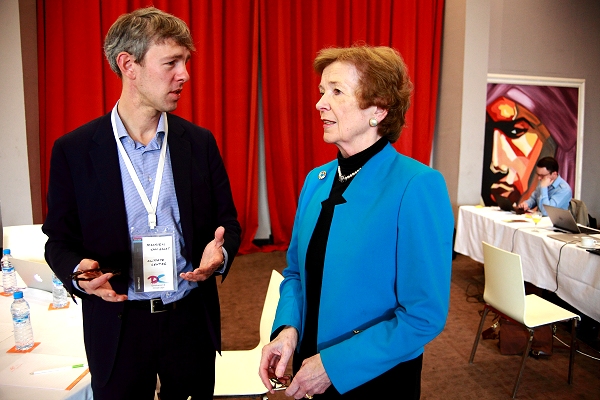 16 November 2016
The IFRC this week emphasized its support for the developing UN 'blueprint for action' on El Niño, and applauded the world body for "bringing the humanitarian and development dimensions of resilience to the heart of the climate negotiations…in Marrakech".
The blueprint highlights the "need to invest at a much larger scale ahead of crises," said Maarten van Aalst at a COP 22 side-event Monday, speaking on behalf on the IFRC, "and finance plays an important role."
At the UN General Assembly in September, the IFRC called for a "radical shift" in the response to crises linked to El Niño and climate change, saying the devastating El Niño-related drought in Southern Africa had left more than 20 million people needing immediate humanitarian aid. 
The latest version of the blueprint calls for anticipation of and allocation of resources to early action, and Dr van Aalst recalled that the IFRC was committed to at least doubling coverage of forecast-based financing (FbF) by 2018.
The Red Cross Red Crescent had been building on FbF case studies like Uganda "in close collaboration with governments, and with the support of innovative donor agencies, such as Germany, the Netherlands, the UK and US."
He noted that "Red Cross pilots showed that what the UN blueprint proposes can indeed be done, and would pay off", but they were still the exception rather than the rule. 
'Climate finance'
"So we have work to do, changing our decision-making and financing systems to address the rising risks."
He called on governments to "think about how climate finance can be put to use to fill the gaps…especially pre-allocated finance for early action."
The IFRC statement also praised the UN special envoys for El Niño and climate – Mary Robinson of Ireland and Macharia Kamau of Kenya.
"Finally," Dr van Aalst said, "we pledge the full support of the Red Cross Red Crescent to implement the blueprint for action on the ground."
At D&C Days in Marrakech last weekend, Climate Centre Director Maarten van Aalst talks to Mary Robinson, the former Irish president appointed in May this year with Macharia Kamau of Kenya to be the UN Secretary General's special envoys on El Niño and climate. On Monday at the COP 22 UN climate talks they heard the IFRC pledge further support for the blueprint and the innovations it spells out. (Photo: Climate Centre)