Spicing D&C Days: Moroccan women farmers, battling climate impacts, exhibit in Marrakech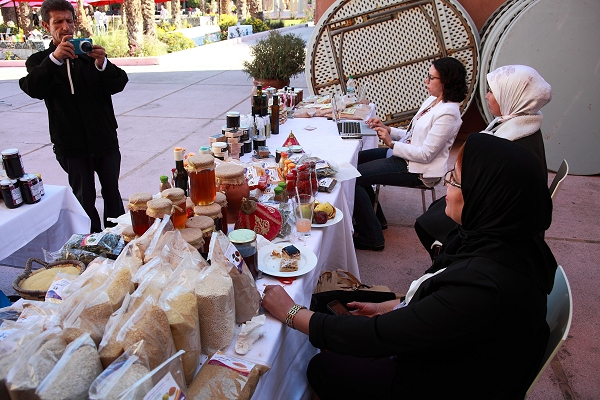 13 November 2016
Four agricultural cooperatives from semi-arid regions of Morocco joined forces to exhibit their wares to an international audience of development and climate specialists at the D&C Days event in Marrakech this weekend.
The women produce high-quality foodstuffs and cosmetic products from traditional crops that are "all very affected by climate change," according to Asia Lachir, who collaborates with GIZ (German International Cooperation), which supports the Centre de Compétence Changement Climatique du Maroc (known as '4C Maroc') – both D&C Days partners.
"Everyone is talking about climate change," says Lachir. "People see the impacts on their crops, without necessarily understanding what's happening.
"When the temperature gets too high, for example, our saffron just fails," she says, holding one of the small jars of the russet spice used in cooking, and in Morocco also in tea, and made from the dried stigmas of crocuses.
'Generally there is not enough water,
but when it comes there's too much and we get floods'
With Lachir on the exhibition stand at the D&C Days venue were Nezha Elgharbaoui of the Yamna cooperative; Amina Majdi, president of the Sanad cooperative; Fatima Dounrar of Ijideguen Aguerda cooperative; and Khaddouj Boutaarit, president of the Ayour Anbbou agricultural cooperative.   
They sit together at three trestle tables piled high with food and cosmetics that would probably qualify as both exotic and organic – they are all produced without either fertilizer or preservatives – elsewhere in the world.
For the larder, for example, there are honeys, spices, couscous aux herbes, confiture de prunes and huile d'argan, from the argan tree found only in Morocco – another of the principally gastronomic products that have cosmetic applications; for the bathroom there is eau floral de rose and savon noir.
In Morocco, all these products and the people who generate them are battling climate impacts.
"Generally there is just not enough water," says Lachir, "but when it comes there's too much and we get floods," echoing the cycle of drought-flood-drought linked to climate change elsewhere on the African continent.
"Farmers also see new parasites," she adds, unfamiliar either by type or by location.
"GIZ supported us to tour these cooperatives explaining what climate change means. I spent two days in each one with a colleague, talking to women producers, explaining what's happening with the climate and what might happen in the future."
Cuisine
For its part, the Moroccan Red Crescent "has been working for many years in environmental education, encouraging and helping people keep their neighbourhoods clean, for example," says M'hamed En-Nosse, Director of Projects and Partnerships of the Moroccan National Society.
"Now we're very interested in the new challenges of climate change over the next few years and including climate factors in our programmes."
En-Nosse explains that impacts and hazards associated with climate vary widely in Morocco from, broadly speaking, floods in the north of the country to extreme heat n the south.
The country's 2016 'Nationally Determined Contribution' says that "Because of its geographical position, Morocco is highly vulnerable to the adverse effects of climate change, while its contribution to the causes…is extremely low."
Also at D&C Days, junior chefs from the Cafe Clock cooking school, on Derb Chtouka in the Kasbah, took part in a culinary side-event organized by the Clmate Centre to illustrate how climate impacts can be reflected in cuisine.
Women from agricultural cooperatives in semi-arid regions of Morocco exhibited their wares to development and climate specialists at the D&C Days event in Marrakech this weekend. They produce high-quality foodstuffs and cosmetic products from traditional crops affected by climate change.
(Photo: Climate Centre)