Development and Climate Days 'open for business' in Marrakech alongside COP 22 UN climate talks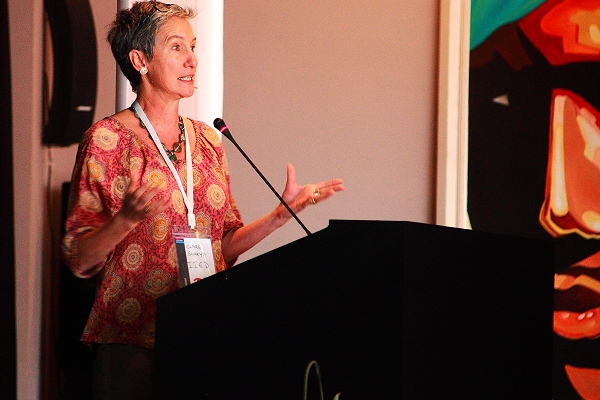 12 November 2016
The two-day Development & Climate Days ('D&C Days') workshop over the middle weekend of UN climate talks got underway in Marrakech on Saturday, exploring how local actors and civil society can help achieve the adaptation goals of the Paris agreement on global climate.
For the first time in the history of the event, the private sector is involved in the form of the 'We Mean Business' coalition of influential businesses and investors working for a transition to a low-carbon economy.
Business also "has a vital role to play in managing risks and enhancing resilience," according to the introduction to one of three We Mean Business-facilitated sessions at D&C Days.
It adds that the "ability to anticipate, avoid, absorb and recover from climate-related risks ensures business continuity and enables broader societal resilience."
'Investment'
As well We Mean Business, the Marrakech D&C Days is a partnership of (alphabetically) 4C Maroc, the World Bank-managed Global Facility for Disaster Reduction and Recovery, the International Development Research Centre, the International Institute for Environment and Development (IIED), the Mary Robinson Foundation-Climate Justice, and the Red Cross Red Crescent Climate Centre.
In her opening address, Clare Shakya, IIED's Director of Climate Change Group, described as "hugely important" the participation of the private sector in this year's event.
"We need to be working with the private sector in order to get the investment in," she added.
Many organizations represented at D&C Days, she said, were "doers" who were "out there trying to work out how to address climate change on the ground, how to do this practically."
Virtual reality
Climate Centre Director Maarten van Aalst, in his welcoming remarks, said there were three main tracks at the Marrakech D&C Days: "the actual words of the Paris climate agreement, as well as just and equitable decision-making for climate resilience, and managing climate risks."
The traditional dynamic format of the event will also encourage dialogue on linking knowledge, policy and practice; participants are challenging established thinking, generating new ideas, and even experiencing virtual reality.
Specialist sessions will ask how communities, government, civil society and development partners can promote accountable decision-making, and how climate finance can reach the most vulnerable.
Saturday's first-day event was also being attended by M'hamed En-Nosse, Director of Projects and Partnerships at the Moroccan Red Crescent.
Contributing partners to D&C Days are Action on Climate Today, Building Resilience and Adaptation to Climate Extreme and Disasters, the Deutsche Gesellschaft für Internationale Zusammenarbeit, the International Fund for Agricultural Development, Partners for Resilience, and the World Resources Institute. 
Clare Shakya, IIED Director of Climate Change Group, opens Development and Climate Days 2016 in the Moroccan city of Marrakech, host for this year's COP 22 UN climate talks. She described the participation of the private sector at D&C Days as "hugely important". (Photo: Climate Centre)