In Marrakech, Climate Centre writeshop charts National Society engagement with adaptation planning and work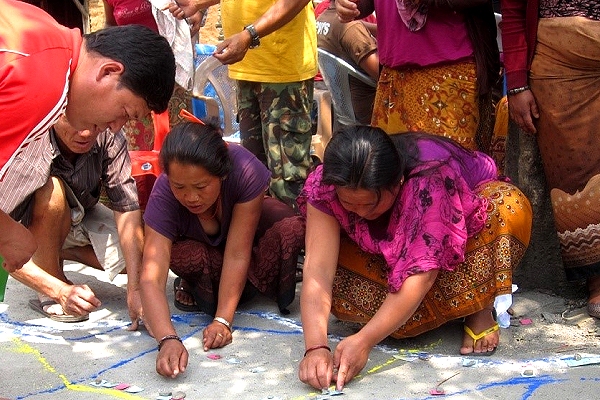 10 November 2016
Representatives from the National Societies of Armenia, Georgia, Kenya, Malawi and Nepal gathered in Marrakech alongside COP 22 this week for a writeshop to generate case studies charting their involvement with 'national adaptation plans' (NAP).
NAPs were begun in 2010 to identify and address climate adaptation needs, according to the United Nations Framework Convention on Climate Change (UNFCCC), and are a "continuous, progressive and iterative process".
Starting last year, the Danish Red Cross with the IFRC and the Climate Centre began an NAP engagement programme to ensure adaptation needs of vulnerable communities are embedded in development planning as part of the ongoing global process; it's supported by the Danish association 'Civil Society in Development'.
'Compare notes'
"In Georgia, the NAP process has involved us with technical documentation, policy-level meetings with government, and programme work in the field like reforestation," said Medea Margania-Avalliani, Secretary-General of the Georgia Red Cross Society, who was at the Marrakech writeshop.
"It's been a very good example of cooperation with various government structures to achieve a single goal: joint action towards climate adaptation.
"This background of strong cooperation was very evident during the unprecedented flash floods in Tbilisi last June that took more than 20 lives – the first time we mounted a major humanitarian response inside the capital city.
"It was very useful here for us to be able to compare notes with other National Societies doing similar work."
'You learn from your peers and get
a near-perfect story at the end'
Examples of Red Cross adaptation work in the field featured in case studies discussed at the writeshop, which also included Surendra Singh Ayer, Vice-Chairman of the Nepal Red Cross Society.
Nepal's NAP case study centred on the Himalayan foothill village of Hile Bazar, where in 2012 a newly 'climate-smart' assessment identified the importance of responding to an increase, over a 30-year period studied, in flash floods triggered by the summer thaw.
As part of a separate resilience programme, also supported by the Danish Red Cross, community members designed mitigation measures centred on reforesting and reinforcing unstable river banks, building a 1.5-metre gabion wall and raising 60 per cent of the necessary funds themselves.
The work in Hile Bazar – a local market hub of some 500 people serving highland farming communities – is one of many Danish-supported community resilience projects around Nepal that now include 'climate-smart' elements.
Weather station
Partnership between the Kenya Red Cross Society (KRCS) and the government created awareness within the National Society of the availability of international funds for adaptation, according to the KRCS case study.
After a competitive process, the KRCS won support from the UNFCCC for a three-year adaptation programme centred on agriculture and livelihoods and helping 3,600 people in the northern county of Marsabit.
The KRCS project there also include installation of an automatic weather station in collaboration with the Kenya Meteorological Department.
Patrick Phiri, a Programme Manager with the Malawi Red Cross, said of the Marrakech writeshop: "This is an important process. You learn from your peers and get a near-perfect story at the end."
'Convener'
For the writeshop, Phiri reported on Malawai Red Cross adaptation work to ease deforestation in the country – which has increased susceptibility to floods – by engaging the Mitundu Youth Club in briquette manufacturing for domestic fuel.
The briquettes are made from materials that cost little or nothing, like shredded newspaper and sawmill waste, and sell for the equivalent of two euro cents; just two of them are sufficient to cook a traditional nsima meal from maize flour.
"The Armenian Red Cross is now recognized as a 'convener' in the area of climate change," according to the National Society's case study, "bridging the divide between vulnerable communities, civil society organizations, local and national government, and international actors."
The four-day writeshop, which ended today at a local guesthouse, was also attended by Gavin White, Disaster Risk Reduction and Resilience Coordinator at the IFRC's Middle East and North Africa office in Beirut, and facilitated by Climate Centre Learning Specialist Margot Steenbergen.
The Nepal Red Cross case study presented at the Climate Centre writeshop in Marrakech this week included work by the National Society in Himalayan foothill villages like Bansar (pictured) on climate-smart vulnerability and capacity assessments. (Photo: Nepal Red Cross)