Asia ministerial conference wants urgent paradigm shift from disaster management to risk reduction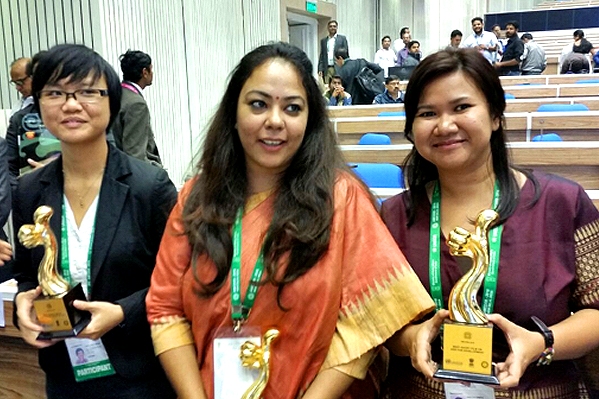 6 November 2016
Governments of the world's most disaster-prone region, Asia, should pursue a paradigm shift from disaster management to risk reduction "with a sense of urgency".
This was the principal key message in the outcome document after the Asian Ministerial Conference on Disaster Risk Reduction 2016 (AMCDRR), which ended in Delhi yesterday and included 13 National Societies, the IFRC Asia Pacific region, country teams from the Partners for Resilience (PfR) alliance, and other stakeholders.
Ministers and heads of delegation agreed it was their "primary responsibility" to develop strategies to meet the global targets of the Sendai framework.
They called for increased investment in "disaster risk reduction for resilience, including multi-hazard early warning systems" and the promotion of science and technology for evidence-based DRR.
The document, which did not specifically mention climate-related hazards or climate change, also recognized the role of UNISDR in facilitating regional efforts to support Sendai.
'Communities themselves have to become custodians
of disaster information and knowledge'
An IFRC statement said it was committed to "raise up local actors and communities and to multiply efforts in reaching the vulnerable and marginalized who are most at risk from disaster threats…"
Martin Faller, Deputy Director of the IFRC in Asia Pacific, said: "Minimizing the impact of disasters and reducing risk, particularly here in the world's most disaster-prone region, remains a key priority for Red Cross and Red Crescent societies.
"Our focus remains on building resilience from the bottom up, not just top down – this means putting communities in the driving seat," he added, renewing the IFRC's call for "individuals, organizations and governments" to join the One Billion Coalition.
Action statement
The IFRC cited its World Disasters Report 2016, which had its regional launch in Delhi yesterday, as saying the number of deaths from disasters stood at 22,773 last year – lower than the ten-year average of more than 76,000 and due "in large part" to investment in DRR, preparedness and early warning.
"Yet the challenges posed by…climate change, population growth and increasing urbanization remain an increasing threat," the IFRC added.
"More resources should be directed to building resilience in hazard-prone communities [which] should be encouraged to pool their knowledge and experience," the IFRC statement quoted Dr Veer Bhushan, Joint Secretary of the Indian Red Cross, as saying.
"Communities themselves have to become the custodians of disaster information and knowledge."
An IFRC stakeholder action statement also set out what Asia's National Societies will do to deliver on the Sendai framework.
'Zero casualties'
Representing PfR, Munish Kaushik told an AMCDRR side-event Strengthening Community Resilience, organized by the IFRC jointly with the Asian Development Bank and UNDP: "Disaster risk reduction interventions must address the root causes of calamities, and not be limited to the sphere of an affected community.
"Instead, a landscape approach must be adopted…and in practical terms, this could lead to identifying and addressing the source of flooding which might lie some 300 kilometres away from an affected community."
Kaushik, India Country Adviser for Cordaid, said experience showed that communities that had been supported with risk reduction initiatives have coped better with disasters, sometime incurring "zero casualties"; priority now should be on intensifying DRR investment.
Yoonkyung Kim, Deputy Head of International Relations at the Korean Red Cross, shared tips from her National Society on engaging with the private sector, and cautioned against using the "technical language" she said humanitarian and development specialists favour; just persuade people by focusing on the benefits of community resilience, she urged.
The Deputy Chief of the National Emergency Management Agency of Mongolia, Colonel Tsogtbaatar Ganzorig, said his government recognized the need to support vulnerable communities increase resilience in view of the climate change that affected livelihoods and caused "far-reaching economic loss".
Mongolia will host AMCDRR in 2018.
Kartiga Jawita (right) and the PfR Indonesia team won the 'best film on DRR and development' category in a competition at AMCDRR in Delhi. Their film, The Resilient Ones from the East of Indonesia, centres on a community's efforts to improve management of its water supply. Dang Thuy Duong from Vietnam (left) collected an award for best film in the 'positive human impact on DRR' category, and Meghna Chawla, also from a PfR implementing agency, won the 'adapting to climate change' competition. AMCDRR provided "a unique opportunity to shape the implementation of the Sendai framework in Asia," says a news item on the PfR website.
*Sumitha Martin is country lead for PfR in the Philippines.