Preparedness saves thousands of lives as Typhoon Haima swept across northern Philippines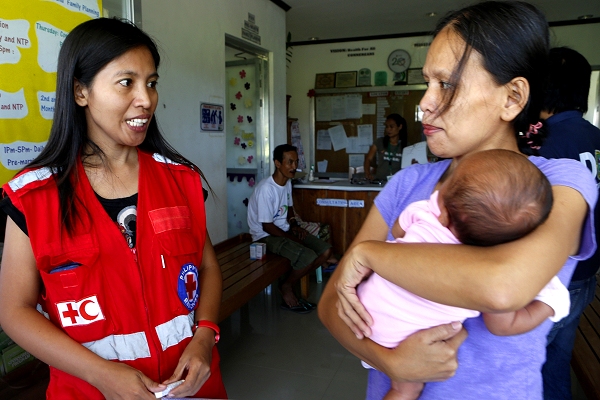 27 October 2016
(This story appeared first on Tuesday on the IFRC news site. The latest news on the response to Typhoon Haima from the Philippine Red Cross is here.)
One week after Typhoon Haima left a trail of destruction in the northern Philippines, details of the extensive damage to homes and livelihoods are starting to emerge from provinces that were previously inaccessible due to obstructed roads and flooding.
Assessments conducted by Philippine Red Cross volunteers and staff indicate that shelter and livelihoods recovery remain the most immediate needs for communities in Northern Luzon.
"During the day, all you'll hear is the sound of chainsaws. In the evening, the sound of generators," says Robert Guinaban, a 46-year-old Philippine Red Cross volunteer in the province of Kalinga.
While local markets in the city of Tuguegarao and the neighbouring provinces of Kalinga and Apayao have opened once more, establishment owners can be seen lining up to buy gasoline-powered generators as transmission and power lines continue to be down.
'What I am most thankful for is that casualties were minimal. 
What happened during Typhoon Haiyan was a big lesson'
One day after Super Typhoon Haima made landfall, Aileen Torres, the Philippine Red Cross Cagayan chapter administrator, found it difficult to sleep.
She was worried about her family and her Red Cross colleagues. After the chapter's experience with Typhoon Megi in 2010, they didn't want to take any chances.
"We simply couldn't sleep," Aileen recalls. "This chapter building is quite old, so I was quite worried it might not survive the ordeal.
"The winds roared so loud and you could almost feel the building shake."
The wind and rain started picking up strength at 10:00 p.m., an hour before the typhoon made landfall.
"I'm thankful because the chapter is sandwiched between taller buildings so the impact of the winds was not as destructive as we had thought it would be," Aileen adds.
"But what I am most thankful for is that the number of casualties is minimal. I think what happened during Typhoon Haiyan was a big lesson for everyone."
Evacuation
Earlier in the week, the Red Cross mobilized a humanitarian caravan loaded with emergency relief supplies and other equipment to the provinces of Isabela and Cagayan to aid affected families.
To date, the Red Cross chapters in the typhoon-hit provinces have assisted around 8,800 people with various activities including search and rescue, hot meals, the distribution of relief items, and psychosocial support.
The government pre-emptively evacuated at least 158,000 people before Haima struck, yet it is estimated that over 92,000 people remain in 640 evacuation centres. 
In the municipality of Rizal, the main access to the town has been blocked off by a landslide that will take several days to clear.
Pre-emptive evacuation the day before the typhoon hit has also saved many lives in the municipality.
Third typhoon
"Our municipality has been affected by several typhoons in the past decade, so we knew what to expect," says Rizal's Vice-Mayor, Joel Ruma.
Haima is the third typhoon to hit the northern Philippines in three weeks, after Typhoon Meranti (Ferdie) and Sarika (Karen).
While the full extent of the damage is still emerging, many residents are struggling to rebuild their lives and repair their homes.
The IFRC launched an emergency appeal for US$3m to support the Philippine Red Cross in delivering assistance to 20,000 people affected by Typhoon Haima over a period of ten months.
A Philippine Red Cross volunteer helps with post-disaster assessment in the municipality of Conner, Apayao province. Tens of thousands of people were successfully evacuated before the storm landed, saving many lives. (Photo: Cheryl Gagalac via IFRC)