IFRC inaugurates its first reference centre in Asia Pacific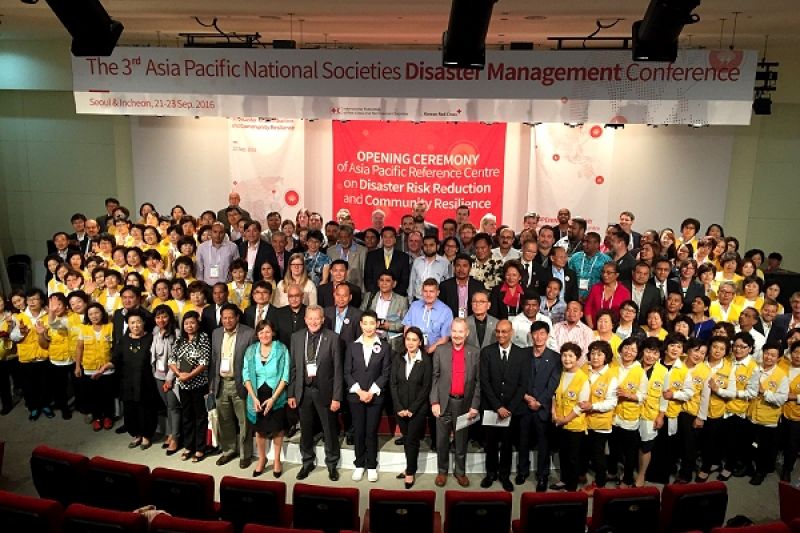 5 October 2016
(A version of this story by the IFRC's Ika Koeck was first published yesterday on the IFRC website.)
The Korean Red Cross and the IFRC last month officially inaugurated the International Federation's first reference centre in the Asia Pacific region.
Hosted by the Korean Red Cross, the Asia Pacific Reference Centre on Disaster Risk Reduction and Community Resilience will be a leading centre of expertise on disaster risk reduction and community resilience.
The official ceremony (photo) took place on 22 September in Incheon, South Korea, during the third Asia Pacific National Societies Disaster Management Conference, attended by nearly 100 disaster management specialists from at least 30 Red Cross and Red Crescent National Societies from Asia Pacific.
The new IFRC reference centre is housed in the State University of New York (SUNY) in Korea; it will will support National Societies in strengthening and developing their disaster management capacities.
The Red Cross is also working with SUNY Korea to develop a masters degree programme on digital networks and disaster risk reduction.
'Asia Pacific is the most disaster-prone region in the world'
The event was attended by the President of the Korean Red Cross, Sungjoo Kim, as well as Martin Faller, Deputy Regional Director of the IFRC's Asia Pacific regional office, and Pascale Meige, Director of its disaster and crisis prevention, response and recovery department.
The reference centre will play a major role in improving Red Cross disaster risk reduction policies and tools through training, research and development, and the exchange of knowledge.
National Society staff and volunteers will participate in programmes with different disaster education institutions and experts to increase their skills in technical areas.
'New thinking'
"Asia Pacific is the most disaster-prone region in the world," said Xavier Castellanos, Director of the IFRC's Asia Pacific regional office. "This has meant that our disaster risk reduction activities have been increasing each year.
"The reference centre will serve as a valuable resource, bringing innovation, creativity and new thinking to how we can make communities more resilient.
"The Korean Red Cross's initiative in helping us establish and host this centre is a reflection of their commitment to enhancing disaster risk reduction efforts in Korea and abroad."
Climate Centre Director Maarten van Aalst said he "warmly welcomed" the new reference centre and looked forward to working closely with it in supporting National Societies and the IFRC secretariat in Asia Pacific.
The official opening ceremony for the Asia Pacific Reference Centre on Disaster Risk Reduction and Community Resilience in Incheon was attended by nearly 100 disaster management specialists from at least 30 National Societies from the Asia Pacific region. (Photo: Korean Red Cross via Twitter.)