US scientists cancel official 'La Niña watch' as their forecast drops to 40% probability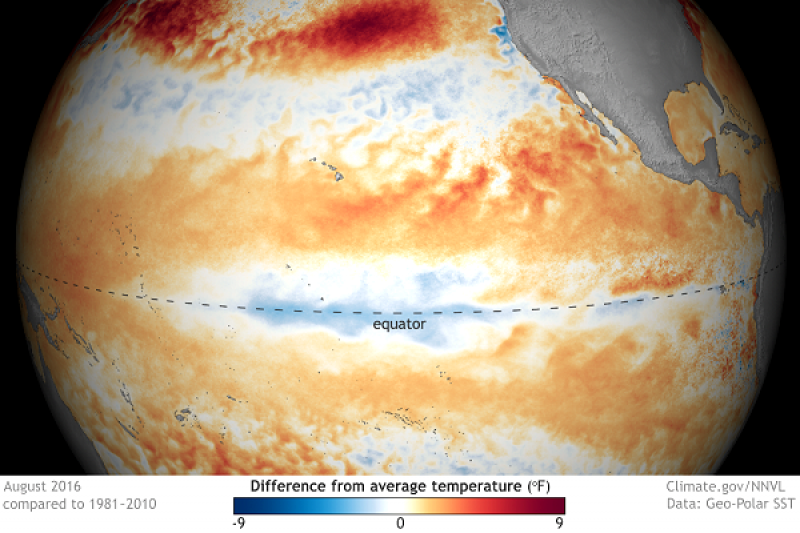 20 September 2016
US forecasters earlier this month cancelled the official 'watch' status for La Niña under the ENSO alert system that had been in effect since April.
The chances of La Niña later this year (relative cooling of the Pacific) "fell to around 55-60 per cent in July," according to the National Oceanic and Atmospheric Administration (NOAA), "and again in August to 40 per cent. Sea surface temperatures were cooling, but the pace of cooling has slowed.
"ENSO conditions are likely to remain neutral through fall."
The IFRC's forecasting partners at the International Research Institute for Climate and Society, who also give a 40 per cent probability for October–December, add: "The Southern Oscillation index and the pattern of cloudiness and rainfall in the equatorial Pacific are somewhat suggestive of weak La Niña conditions, but could also be interpreted as being in the cool-neutral range."
'Late and weak'?
The Australian Bureau of Meteorology (BOM), in its own ENSO update last week, said that "although some La Niña-like patterns are present, there remains limited connection between the atmosphere and ocean [in most definitions necessary for the phenomenon to develop], and hence La Niña thresholds are yet to be met.
"A La Niña WATCH remains in place as some climate models indicate a late and weak La Niña is possible."
Japan's met service, meanwhile, said on 9 September it regarded a La Niña weather pattern as actually emerging in August, with a 70 per cent possibility it would persist to February.
Media reports last week said that the lack of hundred-per-cent consistency among national forecasting agencies was affecting global commodity markets, including gas, coal and crops.
'Seasonal forecasts'
Bloomberg news Wednesday quoted Andrew Watkins, BOM's supervisor of climate prediction services, as saying: "The differences in the operational definitions revolve around the variables and the thresholds we examine to make a declaration."
He added that it "in a transition period, it is fundamentally healthy for different agencies to have different opinions"; this discouraged "group think" and gave confidence when the weather agencies do agree.
"It's not clear which of the different definitions best predicts potential humanitarian impacts associated with La Niña, such as changes in rainfall patterns that can cause floods or droughts," said Climate Centre Director Maarten van Aalst.
"The humanitarian system is paying much more attention to these forecasts than a few years ago – especially after the recent El Niño.
"The Climate Centre is planning research on the various definitions of El Niño and La Niña in terms of their humanitarian impacts, but IRI seasonal forecasts provide a more useful basis for humanitarian decision-making than a single global indicator."
Temperature anomalies for the surface of the tropical Pacific last month. (Source: NOAA)