First-ever use of a drone by Red Cross in Africa highlights humanitarian situation at Uganda border with South Sudan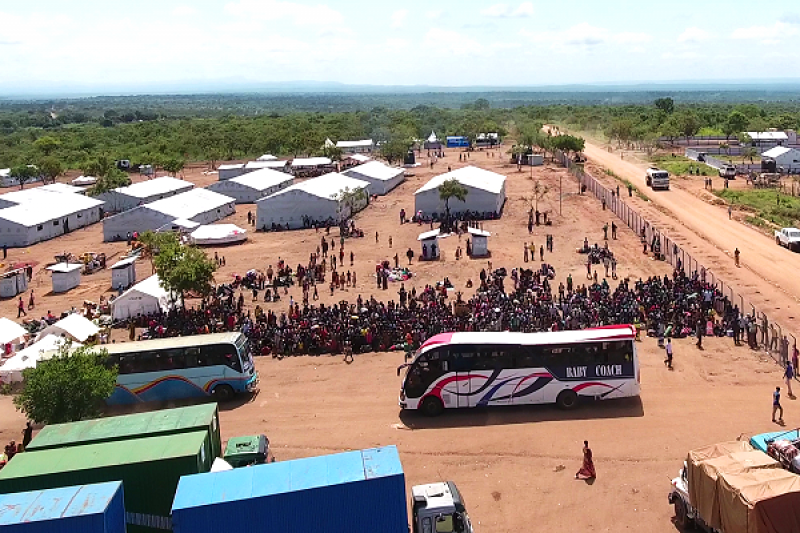 18 September 2016
(A version of this story was first published last Friday on the IFRC's news site. It is updated here to include new figures from the United Nations High Commissioner for Refugees.)
After the first-ever deployment in Africa of an 'unmanned aerial vehicle' – a drone – by the Red Cross Red Crescent, footage from northern Uganda (watch on our Vimeo site) has revealed that a swathe of countryside is turning into a vast refugee camp as hundreds of people every day cross the border from South Sudan.
On one day alone, 8 September, the day the Red Cross drone video was shot, 4,373 new refugees crossed into Uganda, according to the United Nations High Commissioner for Refugees (UNHCR), which said on Friday that the total of South Sudanese refugees in neighbouring countries had now passed the 1 million mark.
This figure included more than 185,000 people who fled since fighting erupted in the capital, Juba, in July.
The Bidibidi reception centre in Uganda's Yumbe district, where many refugees are being registered, is some 300 km north of Kampala.
Just over a month after it opened, the Uganda Red Cross Society (URCS) now puts at 57,900 the number of people who have passed through Bidibidi, from where the drone was flown by Kampala-based URCS and Climate Centre camera operator, Denis Onyodi.
'We shall also support refugees to set up shelters as way of giving them a decent life'
The IFRC on 29 August launched an emergency appeal for nearly 700,000 US dollars to support the URCS in assisting 40,000 refugees over the next six months with safe water, sanitation, hygiene measures, emergency shelter, and health care.
"The vast majority of people crossing into Uganda from South Sudan are women and children or people with special needs, such as the elderly and those with complex health issues," said Andreas Sandin, IFRC Operations Coordinator for the region.
"After having travelled more than 400 kilometres from Juba, they arrive exhausted, hungry, and in need of shelter.
"With more families arriving daily, we need to ramp up our activities quickly."
Gracious Kyagaba, URCS Water and Sanitation Coordinator, said on Tuesday: "The appeal launched by the IFRC will support the URCS to address issues related to inadequate supply of water and limited access to health facilities, as well as curb outbreaks of diarrhoeal diseases.
"We shall also support refugees to set up shelters as way of giving them a decent life."
Proving flight

Red Cross volunteers are assisting with the registration of new arrivals, who come in on UNHCR buses and then disperse into the surrounding countryside, now seen from the air for the first time.
They also operate a treatment plant to produce safe drinking-water, and working to raise awareness of hygiene and sanitation – crucial in maintaining good health for the refugees.
The 'DJI Phantom 4' camera drone used by the URCS to document its work in Bidibidi was supplied by the Climate Centre as part of its forecast-based financing (FbF) programme for large-scale climate-related disasters in Africa supported by the German Red Cross and foreign ministry.
It was on its first proving flight and is now intended to be deployed elsewhere in Africa and beyond on FbF and climate-related emergencies. 
FbF's global launch by the Red Cross Red Crescent Movement was in Uganda last November when URCS volunteers distributed 5,000 relief items to flood-prone communities in Kapelebyong sub-county after forecasts of rising water-levels reached a predetermined threshold of risk. 
The World Food Programme, an FbF partner agency, is implementing an emergency operation to assist up to 80,000 South Sudanese refugees in northern Uganda.
The Bidibidi reception centre for South Sudanese refugees in northern Uganda seen from the Red Cross UAV, a DJI Phantom 4. Thousands of people a day are now crossing the international border with South Sudan as they flee intensified fighting there. (Video grab: Denis Onyodi/URCS-Climate Centre)