Climate change increased chance of record rain in Louisiana last month by at least 40 per cent, new attribution study says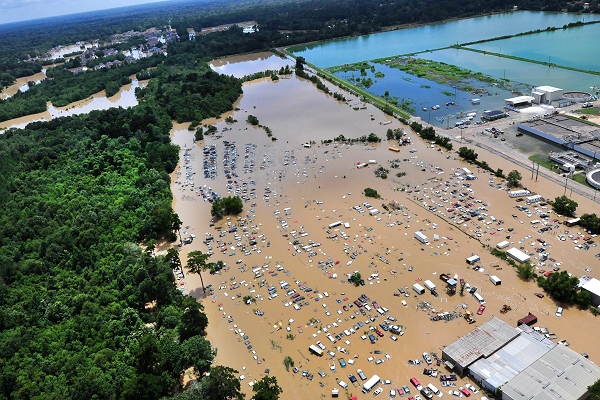 8 September 2016
A joint study by scientists from the US National Oceanic and Atmospheric Administration (NOAA) and the World Weather Attribution (WWA) programme has found human-caused climate warming increased the chances of the "historic heavy-rain event" that triggered lethal floods in Louisiana last month by a minimum of 40 per cent.
The single most likely impact of climate change, however, was "a near doubling of the odds" for the storm.
"We found human-caused, heat-trapping greenhouse gases can play a measurable role in events such as the August rains that resulted in such devastating floods," said NOAA's Karin van der Wiel, the lead author, in a press release yesterday announcing the study.
The models used showed the 'return period' (average occurrence over a relatively long time period) for extreme rain like the August downpours in Louisiana had decreased from 50 to 30 years.
"The results were consistent using observational data and climate models," the NOAA press release said.
'Attribution information is critical to insurers,
policy-makers, engineers and emergency managers'
"This was by far the hardest fast-attribution study we have done, given all the different small-scale weather types that cause precipitation in the region," according to Geert Jan van Oldenborgh of the Royal Netherlands Meteorological Institute, a WWA partner.
"It was encouraging to find that our multi-model methods worked, even for such a complicated case."
In his report on the study yesterday, Associated Press science writer Seth Borenstein said the AP had "contacted 11 outside experts and most of them praised the science and conclusions of the study".
Heidi Cullen, chief scientist at Climate Central, the WWA lead agency, said: "Extreme event attribution analyses are meant to characterize the changing nature of weather risk.
"The information is critical to insurers, policy-makers, engineers and emergency managers as they work to make communities more resilient."
The August storm began when a low-pressure system carrying moisture from an unusually warm Gulf of Mexico stalled over south Louisiana, leading to record precipitation around Baton Rouge – the state's capital and second-largest city.
Recovery casework
Maarten van Aalst, Director of the Climate Centre, another WWA partner, said the South Louisiana event had "serious implications" for residents, government, the humanitarian system and the insurance industry.
"This type of event is now more frequent, and that reality may suggest how we need to prepare.
"To understand the future better we need information about past extreme-events and also about how risks are changing; and incorporate both into planning.
"That way we could limit potential impacts and hope for a less hazard-prone future.
In its most recent press release late last week on its own response in Louisiana, the American Red Cross said it was starting recovery casework, and would be providing financial assistance of US$125 a person to some flood-affected people.
The new support was getting underway "even as Red Cross volunteers continue to operate shelters, serve meals and distribute critical relief supplies across much of Louisiana – support that will continue for the coming weeks," the release said.
As of last Saturday, the American Red Cross and its local partners had provided nearly 70,000 overnight stays in emergency shelters, 900,000 meals and snacks, and just over 540,000 relief items, among other assistance.
The new attribution study appears in the journal Hydrology and Earth System Sciences and will be peer-reviewed online. A scientific summary is on the WWA website now.
An aerial view shows flooding and devastation in Baton Rouge in mid-August, where the US military rescued residents and provided relief. (Photo: Petty Officer Melissa Leake/US Coast Guard via Department of Agriculture)