Small lending promotes resilience amid devastating El Niño drought legacy in Malawi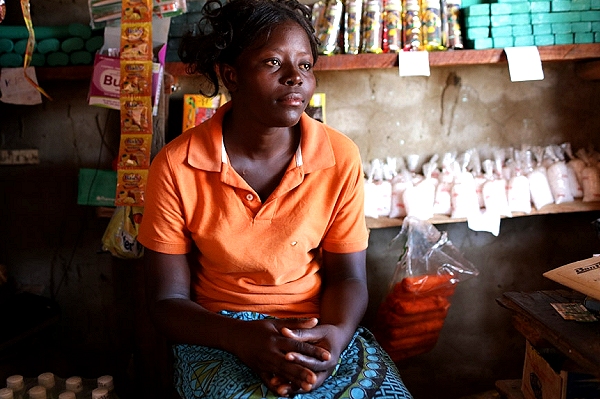 16 August 2016
(This story was published first yesterday by the IFRC, whose emergency appeal for just over US$3.5m to address food insecurity in Malawi was revised upwards at the end of May.)
Driving into Ilemba village in Mwanza district in southern Malawi, it is challenging, passing row upon row of waist-high plants of green peas, to understand the ongoing drought.
However, as maize crops suddenly appear, the situation becomes clearer. Stunted, the stalks have managed to grow, despite the severe lack of rainfall, but the cobs they produced did not mature.
The stalks now stand dried out and brown, their meagre fruit hardened.
"Families have now missed two harvests," says Joseph Moyo, who heads up the disaster management department at the Malawi Red Cross Society. "They tried to plant, but were not successful."
Recent government assessments show that, due to an El Niño-induced drought, more than 6 million people, or 39 per cent of the population, are food insecure and in need of immediate support. 
Welfare fund
UNICEF reports that in June, 3,515 children under the age of five were treated for severe acute malnutrition, representing a 49 per cent increase in such admissions when compared to the same month last year.
But in Ilemba village, and through the support of the Finnish and Malawi Red Cross, families are better coping with their failed crops.
Through a long-term integrated food-security and livelihood project, a village savings and loans cooperative has been formed.
Now consisting of more than 20 women, this group meets once a week, during which each member contributes 1,000 kwacha (US$1.37). A further 100 kwacha is also collected from everyone and put into a welfare fund.
The women can borrow from this pool of money and must repay it, plus interest, within the coming months.
It is all carefully documented by one of the women who has been trained in record keeping. To date, no one has not repaid their loan on time.
'I make my own decisions on what to buy
and how my life is going'
Ellena Kenford (photo) borrowed 100,000 kwacha (US$137) to build the village's first shop. With shelves stocked with everything from matches, to eggs, soap and candy, customers are frequently lined up outside.
"I was working so hard, buying a lot of items for my shop," says Kenford. "By doing this, I was selling more and I got money to repay the funds I had borrowed in two months."
A shop owner for three years, Kenford and her family are now more resilient when challenging times arise, like the ongoing drought. "Without this shop, it was difficult to support my family because I had no income," says Kenford.
"My life has changed tremendously. Before I had this shop, I had to beg for everything that I needed to support my life.
"But now I have everything. I make my own decisions on what I should buy and how my life is going."
The shop is not only impacting Kenford and her family. It has also improved security for women in the village who say the other shops are too far away and that, for them, it is safer to buy locally.
And the positive effects extend even further, strengthening what money cannot buy.
"It is very important for me to have this shop because I am self-reliant," says Kenford. "It also protects my dignity because I no longer have to go around asking for things from people."
(Ellena Kenford borrowed the equivalent of US$137 from her village's savings and loans group to set up a small shop. With profits earned, Ellena has paid back the loan and says she is more self-reliant. Photo: Juozas Cernius/IFRC)