Elhadj As Sy: Asia must invest more in disaster risk reduction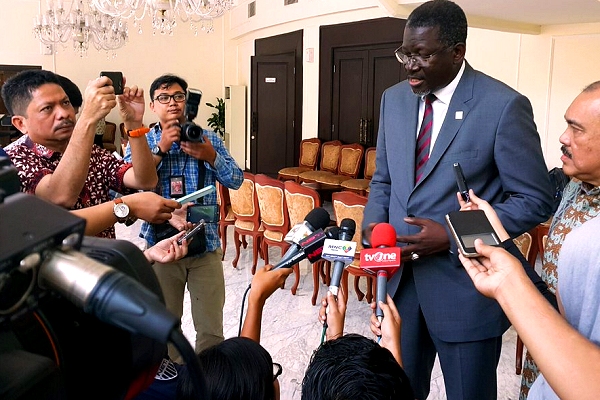 11 August 2016
(This interview was published first yesterday on the website of the Thomson Reuters Foundation – the Climate Centre's BRACED partners.)
From typhoons and earthquakes to floods, Asian nations must step up investment in disaster risk reduction before it is "too late for too many" in a region regularly battered by disasters, the International Federation of Red Cross and Red Crescent Societies (IFRC) said.
Asia-Pacific is the world's most disaster-prone region according to the United Nations, accounting for over half of the world's 344 disasters last year, with more than 16,000 deaths and 59 million people affected in the region alone.
The region has made improvements in tackling disasters but Asia can do more by boosting its investment in risk reduction, said Elhadj As Sy, IFRC Secretary General.
'If we wait to measure the consequences,
it is too late for too many'
"If you compare with what you used to have five years ago, 10 years ago, the countries are getting better equipped and better prepared," Mr Sy told the Thomson Reuters Foundation in an interview during a recent visit to Jakarta.
"Is it enough? Probably not," he added.
Citing successes in the Philippines, which is battered by typhoons every year, Mr Sy said investing in disaster risk reduction was key to minimizing the number of casualties.
Typhoon Haiyan, which hit the Philippines in 2013, killed more than 6,300 people and uprooted over 4 million, but last year's typhoon season had only a minor impact in the country.
"Invest in disaster reduction, invest in preparedness…We know it is harder for people to invest in something they do not see and where they do not measure the consequences.
"But if we wait until they see and measure the consequences, it is too late for too many," Mr Sy said.
Hazard-prone areas
International aid for disasters stood at US$ 28 billion from 2004 to 2013, but most of this was aimed at emergency response and rehabilitation, rather than prevention, according to the 2015 UN Asia-Pacific Disaster Report.
Asia-Pacific is particularly vulnerable to disasters partly due to a rapidly growing population, and a large number of urban poor who tend to live in hazard-prone areas such as slums and riverbanks.
Currently, over 700 million people in the region live in areas deemed at "extreme" or "high" disaster risk, and the number could reach one billion by 2030, according to the latest UN data in March.
"It is not enough just to respond when the shock arrives. What is most important is how can we work together in the spirit of risk reduction," the head of IFRC said.
IFRC Secretary General Elhadj As Sy meets the press on a visit to Jakarta, where he praised the vital humanitarian role of the Indonesian Red Cross and called on Indonesian partners to join the One Billion Coalition for Resilience. (Photo: PMI via Twitter)