Across Asia, humanitarian challenges from monsoon rains and El Niño legacy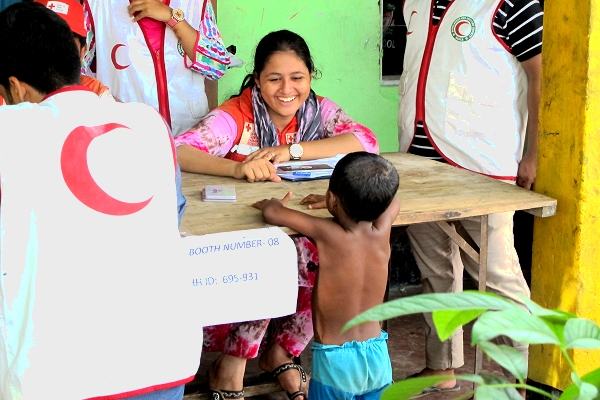 9 August 2016
The IFRC yesterday issued an emergency grant of just under a quarter of a million US dollars to help the Bangladesh Red Crescent Society (BDRCS) assist people affected by severe riverine floods in the north and centre of the country.
Starting three weeks ago, intense monsoon rainfall in the country's principal river basins caused floods that have affected nearly 2 million people, according to the emergency plan of action published by the IFRC's Disaster Relief Emergency Fund (DREF).
As of the middle of last week, 14 flood-related deaths were confirmed by the authorities; nearly 10,000 houses have been destroyed and more than 12,000 damaged.
The BDRCS has reached some 2,000 families with either drinking water or food.
The Red Crescent branch in Nilphamari district also distributed cash for dry food to 1,000 families, while in Bogra district around 1,700 more received cash as part of the German-supported forecast-based financing (FbF) programme in the country.
Spillover
The FbF cash disbursement came after the flood peak and served as a pilot – the first under the programme in Bangladesh – for a new money-transfer system via mobile phones being undertaken in conjunction with Bangladesh Post Office.
The Red Crescent cash assistance was intended to be spent on food, animal fodder, medicine and transport.
A similar DREF grant last week will enable Indian Red Cross Society staff and volunteers to provide relief packs to 5,000 families worst-affected by monsoon floods in Assam state, and supply drinking water from five special purification units.
The IFRC's plan of action for India said the Brahmaputra and Barak rivers and their more than 50 tributaries trigger floods every year, but the impact of the current monsoon has been amplified by river-bank erosion and spillover from neighbouring states.
The width of the Brahmaputra has increased by up to 15 kilometres in places because of erosion, it added.
'The sheer number of people affected is incredible'
Last week, the India Meteorological Department forecast "normal to above normal rainfall activity likely over many parts of north-west, west, central and east India till 14 August", boosting hopes for agricultural livelihoods after a long drought, according to media reports.
The IFRC also reported monsoon rains had triggered floods and landslides across 25 districts in Nepal, destroying hundreds of homes, while at least 745 local Red Cross volunteers were helping the authorities with search and rescue.
Martin Faller, head of Asia-Pacific operations, said that across the three countries, "the sheer number of people affected is incredible and could yet rise as the scale of the damage becomes clear. 
"As ever, Red Cross and Red Crescent volunteers were among the first to respond and help people.
"We will continue to do all we can to support communities, both in the short and long-term."
Salinization 
A very large number of people in Vietnam, meanwhile, are still grappling with the legacy of El Niño, held partly responsible for the worst drought in nearly a century.
Around a third of Vietnam's provinces have been affected by drought and the salinization it causes.
Seasonal rains have started in Highland and Mekong Delta areas, but have so far brought little relief to millions of people whose crops had failed.
"One hundred per cent of the land in the commune is no longer arable," said Pham Van Luyen from Ninh Thuan.
"Last year, we managed to grow crops in some areas, but we were unable to harvest. Since the beginning of this year, it's been so dry that we haven't planted anything."
The youngest beneficiary at last week's German-supported humanitarian cash distribution in Kamalpur village, Sariakandi upazila, Bogra. The disbursement, part of forecast-based financing in Bangladesh, came after peak of the current monsoon floods and piloted a new money-transfer system via mobile phones being undertaken with Bangladesh Post Office. (Photo: Olaf Neussner/German Red Cross)