Forecasters: Models 'back off' a little on possible La Niña strength and timing. But don't cancel the watch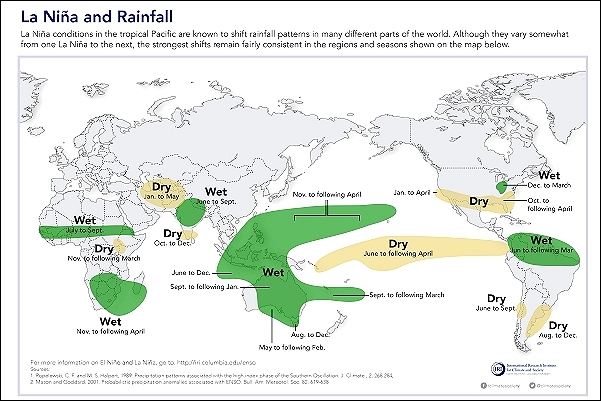 28 July 2016
The International Research Institute for Climate and Society (IRI) – the IFRC's forecasting partners – say the latest computer models show chances for the development of a La Niña phenomenon later this year "are down slightly from last month…topping out at just under 60 per cent" for the period from December to next February.
"We're expecting a weak La Niña to be more likely than not," said the IRI's Chief Forecaster Tony Barnston in its climate briefing for July, which is just out.
"But the chances are only a little bit above 50 per cent at this point.
"The [climate] models have backed off on the La Niña forecast strength and the timing of onset. They backed off a little bit, but they have not cancelled it.
"They're still saying that it's most likely that we'll get a La Niña, and most models that are predicting it say it will be weak. So meanwhile we wait."
The La Niña watch under the ENSO alert system introduced in April remains in effect.
'We wait'
The World Meteorological Organization today (Thursday) updated its own analysis of the outlook for La Niña, saying in a press release from its headquarters in Geneva that a "La Niña event may develop in the third quarter of this year, but it is likely to be weak.
"It is not expected to match up to the moderate to strong La Niña of 2010–2011 and will not compare to the intensity of the El Niño event which just ended and which was one of the strongest on record."
El Niño and La Niña, the relatively warm and cold phases of the tropical Pacific, usually have opposite effects on weather and climate globally; both can have major humanitarian consequences.
Serious impacts of the recent El Niño are lingering, especially the drought affecting food security in much of Southern Africa.
IRI said during the 2010–11 La Niña that since 1950 "the world has experienced six major La Niña events, which were linked to widespread flooding in some areas."
The Australian Bureau of Meterology said last week that its observations and climate models meant its own outlook remained at "La Niña watch" with "the likelihood of La Niña forming in 2016 [at] 50 per cent".
A view of possible impacts of a La Niña on rainfall patterns worldwide (image above) is available for download as a high-resolution PDF at the IRI-IFRC map room. Red Cross Red Crescent disaster managers can also register for the email seasonal forecast notification service for their country or region, which has also just been updated for July. Also follow #IRIforecast on Twitter. (Image: IRI)