WMO will research whether reported 54°C in Kuwait heatwave sets official, all-time eastern hemisphere record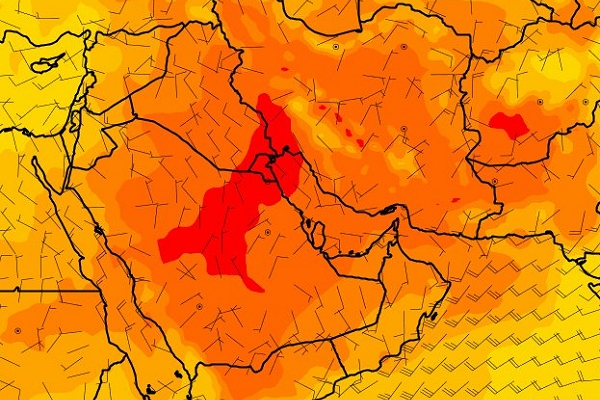 27 July 2016
The World Meteorological Organization (WMO) yesterday said it would examine whether a reading of 54.0°C last Thursday taken in Mitrabah, Kuwait, sets a new temperature record for the eastern hemisphere.
The WMO oversees the global weather and climate extremes archive held at Arizona State University, which show that the highest temperature in history was 56.7°C at Death Valley, California, on 10 July 1913. 
The highest temperature for the eastern hemisphere was reported in July 1931 in Kebili, Tunisia, at 55.0°C, but the accuracy of colonial-era records has been questioned.
A team of WMO meteorologists and climatologists will now look at last week's Kuwait high – recorded at a remote area of the north-west of the country – including factors like the instruments used, quality of observations, and microclimate.
---
'The science of attribution is making it possible to analyse events
and assess the role of climate change'
The WMO says the heatwave affecting large parts of the Middle East and North Africa exceeded "by a large margin the seasonal averages, and over a sustained period."
Governments have issued health warnings, and the WMO – an IFRC partner agency – yesterday added that refugees in the Middle East face "heat exacerbating their fragile situation and suffering."
(With very high summer temperatures also affecting parts of Europe, the IFRC's Nichola Jones reported last week that "scorching heat and poor conditions" exacerbated suffering on Hungary-Serbia border, where hundreds of people were without proper shelter, water or supplies as they waited to apply for asylum.)
Over the past 50 years, hot days and nights and heatwaves have become more frequent, according to the WMO, citing the Intergovernmental Panel on Climate Change as saying the "length, frequency and intensity of heatwaves will likely increase further during this century".
The WMO adds: "The science of attribution is making it possible to analyse individual events and assess the role of climate change played, rather than natural variability.
"Scientific assessments have found that many extreme events in the 2011–15 period, especially those relating to extreme high temperatures, have had their probabilities substantially increased as a result of anthropogenic climate change – by a factor of 10 or more in some cases."
Temperature records
Last summer the new World Weather Attribution team of which the Climate Centre is a part carried out a real-time analysis of the European heatwave that generated humanitarian concern, saying they were "virtually certain" climate change increased its likelihood – the first time such information was made available by the team during a weather-related crisis.
This year's seasonal heatwaves come as the planet has just witnessed its hottest January–June period on record, with temperatures shattering even the record levels set last year, according to the latest US data.
A number of countries have seen new national records, says the WMO, including an Indian reading of 51°C in Rajasthan in May.
A colour-coded temperature chart for the Middle East showing the hottest zone last week across northern Saudi Arabia, Kuwait and parts of southern Iraq and western Iran. The WMO says it will examine whether a recorded 54.0°C Mitrabah, Kuwait, sets a new record for the eastern hemisphere. (Image: Meteo France via WMO)